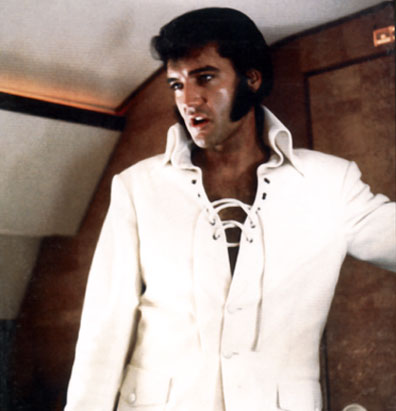 Taken on:

1970/09

Source:

DVD "Elvis, The Colonel And Me"

Photo:

Ed Bonja

Location:

Airplane, Mobile Alabama

Info:

My favourite picture of Elvis was taken on the very first tour, in September 1970. The closing day to that tour was Mobile, Alabama and following the show we set all the show people home on the showplane, and The Colonel had flown home earlier in his own Learjet. Elvis was using a, I think it was a British made plane, BAC 1-11, I never was on a customized plane like that. Tom Diskin, my uncle, and I were gonna go back to Los Angeles in Elvis's plane, which was very exciting to me. In the back in the plane there was a couch at either site of the isle, and then there was a bathroom in the very back of the plane and I was sitting in the back, next to my uncle. Elvis finally arrived and did a lot of autographs downstairs and kissed a lot of girls that were friends of the security people that let them in to meet Elvis and then he finally came up the stairs. He came back to where the restroom was, or the bathroom, he said "I need to wash my face, it's hot up there" and he went in to wash his face. When the door opened and he came out and closed the door, I picked up my camera to take a picture of him. And as gracious and nice as Elvis is, he wasn't facing me, so he turned a little bit to face me straight on, so I got a nice front picture of him and naïve as I was, being on the first tour I was ever on, and new on photography both, I said "you don't have to pose" and he said "I'm not posing, what do you want me to do?" and then he said something I really can't repeat on a camera, but I should have taken a picture then. Anyway, I took this picture of him, in which you can see, in this white coat and he has a cigar in his hand, he smoked that little cigars, like cigarillos. To this day this is my favourite picture and probably my favourite memory of Elvis.

Ed Bonja on the DVD "Elvis, The Colonel and Me"
Login to give your opinion