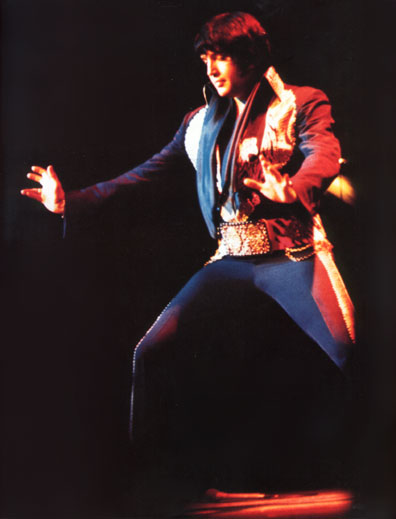 Taken on:

1975/12/13

Source:

Elvis The Concert Years (Stein Erik Skar)

Photo:

Elvis The Concert Years

Location:

Las Vegas Hilton

Suit

Silver Eagle Suit

Info:

Las Vegas in December is a rather dead city, and one might have thought that the Hilton was taking a big chance when Elvis was booked to perform there in the first two weeks of the month, as compensation for the cancelled August engagement. But Elvis again proved his fantastic popularity as an entertainer. While several of the show rooms in the city were closed, and those that kept going rarely attracted more than 50 people to the shows, Elvis sold out every show. It says a lot that there were more people at Elvis' closing show than at all the other shows in Las Vegas put together that night! Elvis opened with good shows. The weak character from August had been replaced by a fresh and humorous Elvis who held one of his strongest Las Vegas seasons ever. His mood could still swing a lot, but the concerts varied between good and very good - long, exciting, and with a good and varied repertoire. And his voice has to be mentioned again - strong, sure and with a force and volume that showed that the positive voice development was continuing. Sensitive interpretations of quiet ballads had always been a quality which had characterised Elvis, and this season in Las Vegas, Elvis presented a song called 'America The Beautiful', which gave the audience an emotional experience that only a handful of other songs from Elvis' concert repertoire could manage. The song had long traditions in America's history, and the song was included in Elvis' repertoire as a homage to America's big jubilee in 1976 - 200 years had then passed since the declaration of Independence was signed on 4th July 1776. 'America The Beautiful' awakened the national feeling with the audience in the same way as 'An American Trilogy', and Elvis' interpretation resulted in a powerful concert experience.

After 16 shows and $800.000 in ticket takings alone, Elvis this time received a gold medal from the Hilton as thanks for record takings during an otherwise lifeless time in Las Vegas.
Login to give your opinion