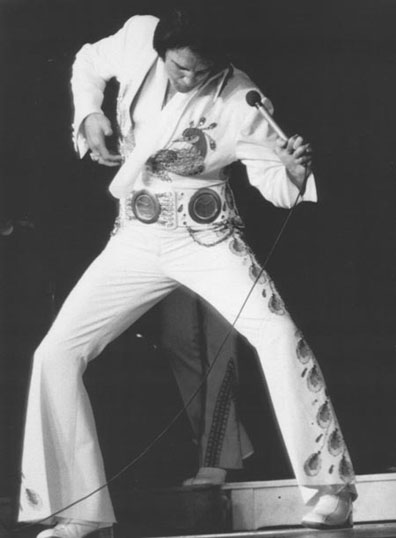 Taken on:

1974/06/15

Source:

Elvis The Concert Years (Stein Erik Skar)

Photo:

Elvis For The First Time Ever (Joseph A. Tunzi/J.A.T. Productions)

Location:

Fort Worth, Texas at the Tarrant County Convention Center

Attendance

14.000

Suit

Peacock Suit

Info:

Tale of two cities

Fort Worth - Thirty miles east of here lies Dallas, which refuses to acknowledge the existence of Fort Worth. But for two glorious days, June 15-16, smug smiles were to be seen in the sidewalk cafes along the three-lined boulevards of Cowtown. Elvis Presley was opening his national tour here, and he switched the dates from Dallas to do it! It wasn't real hard to figure that one out. The folks who run the Tarrant County Convention Center merely mentioned to Colonel Thomas A. Parker, suh, that their hall holds 4.000 more bodies than Dallas Memorial Auditorium. Once the Colonel gave the green light, 14.000 tickets sold out 48 hours after going on sale.

A second date was added and the same thing started to happen. The Colonel suddenly became very interested in Fort Worth. He was on the phone every two hours asking for figures. You could almost see the dollar signs spinning around in his eyes like the wheels on a slot machine. Two shows, three shows, four shows, JACKPOT! The $10 seats went all the way up to the top of the arena, although there was a row or two of $7,50 and $5 seats just to keep the common touch. Final figures: 56.000 paid admissions, a gross of $650.000 (which must have included souvenir sales). Bidness, as they say in these parts, was very good indeed.

Oh yes, the show. Well, it was Las Vegas without the crap tables. Huge orchestra. Three opening acts - Voice, a vocal trio from Nashville, comic Jackie Kahane, funny but not 20-minutes funny; and the Sweet Inspirations, New York session singers par excellence, who were dynamite and should have had 10 of Kahane's minutes added to their 10. Intermission and the money-changers swarmed into the temple. The audience was docile, well-upholstered, and armed to the teeth with cameras. Even the stage crew was photographed and autographed. Lights out. Places, everybody. The Sweets and Voice are joined by the Stamps Quartet and a backup band. The orchestra thunders the opening bars of "2001," which used to be known as Richard Strauss' "Also Sprach Zarathustra." Enter The King, borne in a sedan chair by six Nubian slaves? Hold that, he's walking onstage. Oh well, no matter; 14.000 flash cubes erupt in union. Elvis is in white, emblazoned with a colorful peacock, and is probably wearing a girdle. Elvis is 39 years old and growing, but he can still shake that thing. More than one young woman squirms in her seat. If that isn't enough, each time Elvis takes a pause to wipe away the sweat, he tantalizingly flicks the white scarf into the audience. During the finale, scarves sail out into the audience like so many pigeons, and matron and maiden alike charge the stage. Elvis touches a few outstretched hands, takes a final bow, and is gone. But Dallas will still be here tomorrow.
Login to give your opinion