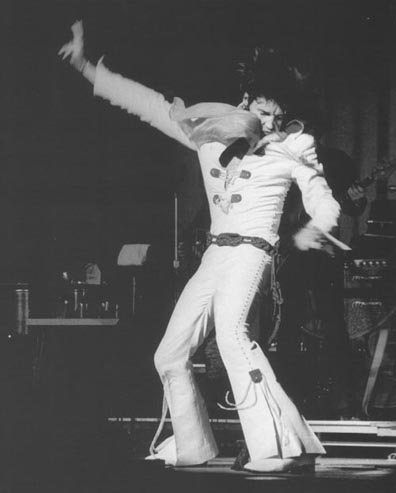 Taken on:

1970/09/10

Source:

Elvis The Concert Years (Stein Erik Skar), Elvis A. Presley, Muziek, Mens, Mythe (Marc Hendrickx)

Photo:

Elvis For The First Time Ever (Joseph A. Tunzi/J.A.T. Productions) (photographer: Dagmar)

Location:

Kiel Auditorium, St. Louis, Missouri, 12.000 visitors

Suit

White Chain Suit

Info:

Two days after his 'closing night' in Vegas, Elvis leaves for a short tour. Full of confidence, Elvis starts the tour in Phoenix, Arizona. Next concert will be in St. Louis, Missouri. Just like in Las Vegas, it won't be a usual concert. The Elvis Presley show means an evening-filling program, including pre-program and souvenir sales. It looks like we're back in the fifties again. But Elvis is up to date for a hundred percent. New this tour is "I've Lost You", which is a highlight. The Imperials are replaced by 'The Hugh Jarrett Singers.' The crowd is wild enthusiastic. Elvis gives imitations of Tom Jones, Engelbert Humperdinck and Glen Campbell during 'Polk Salad Annie', before showing the audience how it ought to be. He finishes his karate demonstration with falling on the floor of the stage. The crowd is crazy! Kathy Westmoreland, who has a close relationship to Elvis during this time, experiences some shocks in St. Louis, as the audience reactions were even wilder than in Las Vegas. She loses hold of Elvis' jacket when they try to escape from a throng of people who are following Elvis. She suddenly finds herself alone in the chaos of arms and legs which are fighting wildly to catch up with him. Kathy probably fights more than the rest and a bodyguard mistakes her for an over-enthusiastic fan and gives her a karate chop on the neck!

A sign of the popularity is the story Elvis loves to tell later: the last stop of the tour was Mobile, Alabama. Elvis was unhappy about the hotel because there was no air conditioning, he phoned a motel asking to book a room - without saying who he was. The lady at the other end said: "I'm sorry sir...No rooms." Elvis repeated the booking, saying he needed 30 rooms immediately. The motel lady replied: "I'm sorry sir...there aren't any rooms. Haven't you heard? Elvis Presley's in town."
Login to give your opinion