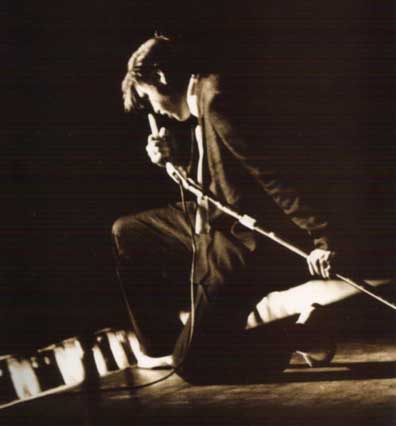 Taken on:

1956/06/30

Source:

Elvis Presley - The Hottest Thing That's Cool (Elvis Unlimited Publications / Ger Rijff / Tutti Frutti Productions)

Photo:

Elvis on stage in Richmond Virginia, photographed by Wertheimer

Location:

The Mosque Theatre - Richmond, Virginia

Suit

Casual 50's

Info:

June 29, 1956 - Elvis arrives in New York in the morning and goes immediately to rehearsals for the upcoming Steve Allen TV-show at a rehearsal in mid-town Manhattan. That night, Elvis catch the Richmond, Fredericksburg, and Potomac Railroad train to Richmond, Virginia, arriving the next morning. This is familiar ground to Elvis; earlier in the year he'd rocked the state capital's Mosque Theatre twice - February 5th and March 22nd. Elvis and his two cousins Junior and Gene Smith take a taxi ride to the Hotel Jefferson. Here he'll have time to rest and prepare for the two concerts scheduled for 5pm and 8pm.

After checking in, Elvis and his cousins go up to their rooms to relax and store away his concert clothes. In the early afternoon, Elvis changes clothes and goes downstairs for a quick snack. Waiting for him is a young lady he'd met while visiting Richmond back in March. All dressed up and excited, she joins Elvis in the coffee shop. At 4.30 pm, Elvis, his cousins and the Richmond Rose take a taxi ride to the Mosque Theatre. Not long now to Showtime.

On arrival at the theatre, Elvis is met by his drummer, D.J. Fontana. As fans scream "We want Elvis!" outside, their hero is joined backstage by the Jordanaires. They relax by harmonizing on some gospel songs. They have to quit because Elvis can't hear his backing vocals because of the screaming of the fans. While the support acts try to entertain the packed theatre, Elvis has other things to worry about - such as heating up his Richmond babe...

Finally the big moment draws near. With only a few minutes to showtime, Elvis musicians tune up their instruments and prepare to rock and roll. The man everybody is waiting to see stands in the wings ready to bring the house down. 'Heartbreak Hotel', 'Money Honey'...One hit after another is greeted by screams from the devoted audience. The auditorium is exploding and Elvis enjoys every minute of it. The pandemonium continues for 25 minutes. Then the Memphis Flash gets ready for the grand finale... "You ain't nuthin' but a houn' dawg..." The band plays loud behind him while Elvis pulls out all the stops to drive the fans to fever pitch. "You ain't never caught a rabbit, you ain't no friend of mine." Dropping to his knees with his hair falling over his sweaty brow, he repeats the last verse again and again before rolling over on the dusty stage with his arms outstretched. The fans reach out for him but he is untouchable.

Also available is a wallpaper with this image we made last year.
Login to give your opinion