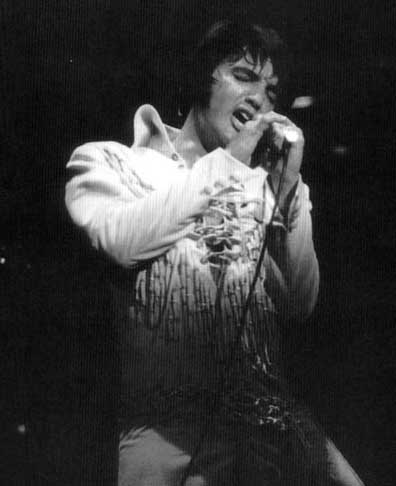 Taken on:

1970/08/10

Source:

Part of the 'Daily Variety' of August 12, 1970 (taken from the latest 'Follow That Dream' release 'The Way It was.' An audiovisual documentary by Sherif Hanna & Ernst Michael Jorgensen).

Photo:

Opening Night ( The way It Was)

Location:

The International Hotel, Las Vegas, Nevada.

Suit

Fringe Suit

Info:

Las Vegas, Aug.11 - Elvis Presley's third trip to the Big I is equally auspicious as were those other blockbusters spread out over the past year in generous monthly helpings. He ranks highest on the Vegas totem pole along with Frank Sinatra and Dean Martin in ultimate charisma to high-rollers and low-rollers alike.

This return is given a subtitle, "Elvis' Summer Festival." It has even further excitement for tourists, with MGM filming the superstar in a documentary titled "Elvis" for release this fall. Cameras and crews were noted throughout the showroom and on stage opening night, filming Presley and the audience. The Joe Guercio orchestra were all miked, a bristling stand of electronic gear picking up every sound, welcome or not.

Presley is cool and very collected all the way through his full hour, knowing just what to do every minute. His breaks for liquid refreshment (soft) are very much a part of the routine as he tosses over the adlibs, some choice, some callow, all received with intense respect. His occasional ringside tours for more liquid sustenance and napkins to wipe the sweat from his face are also a part of the calculated showbiz plastic fertility rites, with kisses for femmes and awkward postures and little kidding remarks, as much a part of the act as his strong warbling.

Dressed in what he calls a jumpsuit, a white-fringed, high collared casual costume, laced for openings at the chest, tight bells, he goes through his modified sexy chores. He begins by holding the guitar closely, with which he makes his familiar thrusting phallic gestures, then lays it down for straight belting into the hand mike from then on. Fifteen tunes are given powerful treatment, whether from the old rock 'n' roll roster, standard rock pops or ballads. Presley's way with ballads is fine, this trip introducing a couple of his latest etchings, "The Next Step Is Love," and "I've Lost You." Choosing highlights from this log is difficult, although intro cheers greet, "I Can't Stop Loving You," "Something" and "Sweet Caroline." There is an accumulation of interest during "Lost That Loving Feeling" and the 'way-back-when-Tennessee round, "Polk Salad Annie" similarly receives extra mitt laurels....
Login to give your opinion