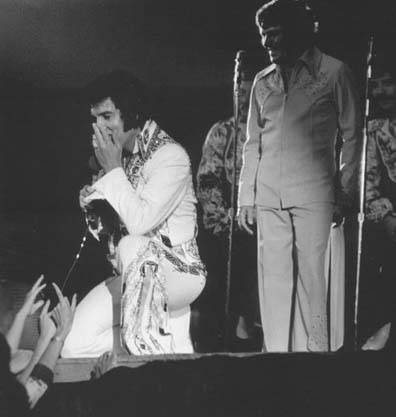 Taken on:

1975/06/10

Source:

Memphis Press-Scimitar (written by Henry Bailey), taken from Stein Erik Skar's "Elvis The Concert Years".'

Photo:

Taken from Joseph A. Tunzi's latest book "Elvis For The First Time Ever".

Location:

Mid-South Coliseum, Memphis

Attendance

12.367

Suit

Indian Feather Suit

Info:

He Rocks 'n' Rolls 'n' Puffs; Fans Love Elvis Tenderly

A little puffier and a lot more talkative, but it was still the Essential Elvis Presley - the gyrating, singing genius the Sunday Times of London listed in 1970 as one of the shapers of the century - who held forth before a capacity crowd at the Mid-South Coliseum.

"We love you, Elvis!" was the shrill, feminine cry heard more than once, perhaps closer to several hundred times among the 12.367 well-scrubbed, screaming fans, friends and curious who greeted Whitehaven's most famous homeowner. Whoever said that life begins at 40 was right in Elvis' case; his steady pulse on the life-blood of American popular music tastes continues unabated after 20 eventful years.

It was Elvis who, if not the inventor of rock 'n' roll, was the energizer who made it something high brow critics and pundits could criticize but no longer ignore. Along with his longtime admirers, there are those late-bloomers among the counter-culture who now realize the significance of his "survival" in the face of American buying power. All those humiliations at the hand of Ed Sullivan's reluctant cameras, know-it all reviewers, Army barbers and 31mediocre Hollywood movies have had no effect.

"You just can't deny a man who's managed to stay as long as he has," said Corky Carrell, 19, of Kansas City, who arrived with a friend. "He's wonderful; and I listen to everything. Acid rock, hard rock. But Elvis, he was the first rock star with style, the first to give audiences something to look forward to."

Schematically, Elvis' 75-minute show was mostly a rehash of his earlier Memphis shows, which were based on his internationally televised Hawaii concert in 1973. He offered some eye-filling views of a tight-fitting, white jumpsuit laced with Indian-style embroidery and spangles.

What there was of a rehash the audience didn't mind, and they greedily gobbled up such surprises as his versions of the Diamonds' "Little Darling" and Olivia Newton-John's "Let Me Be There."

It takes an artist of some range - beset with screaming females and dispensing karate jabs and scarves as best he can - to render justice to the saccharine "Love Me Tender" and do the same for the boisterous "Tiger Man", with such redoubtable lyrics as "I'm the king of the jungle they call me Tiger Man/When you cross my path you take your own life in your hands."

A favorite with the audiencewas the stirring "How Great Thou Art", sung with strident fervor by Elvis, with some excellent background vocals by J.D. Sumner and the Stamps Quartet.

And few could deny the human drama of a man, bending over too far to kiss a wild-eyed fan, splitting the seat of his pants, and then joking about it.
Login to give your opinion