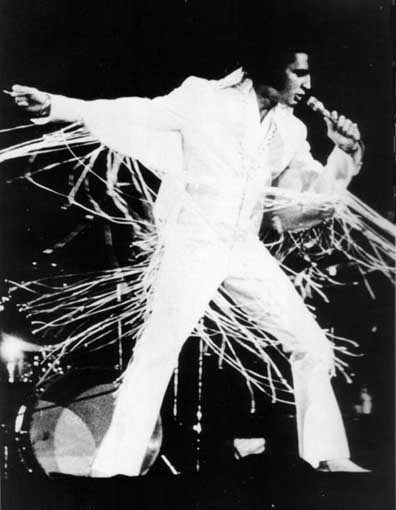 Taken on:

1970/11/14

Source:

Elvis The Concert Years - by Stein Erik Skar.

Photo:

Elvis in action during his evening concert in Los Angeles. (taken from Paul Lichter's book 'Elvis thank you very much.' Original photographer is unknown.

Location:

Forum Of Inglewood, Los Angeles, California.

Attendance

18.700 each concert.

Suit

Caped Fringe Suit

Info:

Elvis' second tour started in Oakland, California on November 10th, 1970 and ended in Denver, Colorado seven days later. All the media hype goes to Los Angeles. Tickets for the concert are sold out within five hours. A decision was made to arrange an extra concert in the middle of the day - and a couple of days later that concert was sold out too.

During the evening show Elvis wears a suit with fringes all the way down the floor: "Tom Jones can't use this suit. He's too fat. I've had this suit made specially for this concert, and if it gets tangled up around me I blame you." It's a very spectacular suit, but Charlie Hodge has to cut the fringes from the microphone. But this doesn't have any negative influence on the show. Vocally Elvis is dynamic. His deep and powerful voice sounds great through the speakers of the Forum. Nice detail is that Elvis isn't satisfied with the way he finished 'Can't Help Falling In Love'. He sings a few lines of Polk Salad and then he does the end of 'Can't Help' again.

These two concerts together will bring up more than 313.000 dollar. Another record again! According to the Los Angeles Free Press, the concert is the event of the year. Elvis as a performer is bigger than the legend.
Login to give your opinion