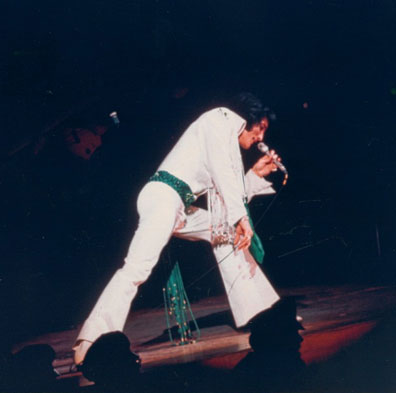 Taken on:

1970/11/12

Source:

The Concert Years

Photo:

Judy Palmer

Location:

Seattle, Coliseum

Attendance

15.000

Suit

White Fringe Suit, short

Info:

Portland Newspaper review, for the November 11 concert

The Magnetism of Elvis Presley hit Portland's Memorial Coliseum like a bolt of lightning. Wednesday night! But chances are many of those who experienced the event will be feeling the vibrations for some time to come. Indeed it was an experience! For 51 electrifying minutes, a capacity crowd of admirers cheerfully laughed, clapped and screamed at him. No one can question the Presley stamina. You won't find many performers who can gyrate their way through 15 fast beats tunes as 'Polk Salad Annie" in the short span of 51 minutes and still be able to walk of the stage. Most would have to be carried off on a stretcher.
Login to give your opinion