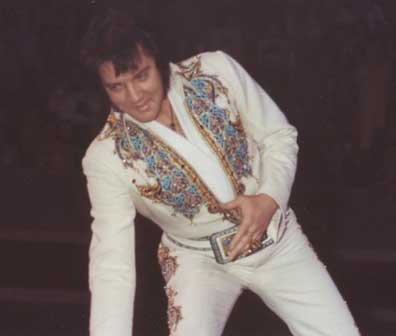 Taken on:

1976/12/30

Source:

Keith Alverson

Photo:

Keith Alverson

Location:

Atlanta

Suit

King of Spades

Info:

This time a special "Picture of the Week". Photographer Keith Alverson tell reviews the concert he attended and the photo he took. Keith is the author of "Elvis On Stage" (read review) and has a website on which you can find a lot more pictures..

The show was the night after the Birmingham, Alabama show.... Elvis was looking great again and putting out more energy than usual... He was dating Ginger Alden and everyone was giving her credit for his sudden burst back to his old self and his shows on this tour proved that for sure. He was singing songs that he had not done live before and some that he had discarded from past years!! He had slimmed down and was cutting up on stage like the Elvis of old.

After Elvis hit the stage wearing the "King of Spades" jumpsuit he jumped into "See See Rider" .... not knowing that this would be the last concert Atlanta would see... but one that would be remembered for sure!! Elvis and Charlie Hodge were fooling' around during the song "are you lonesome tonight".. Elvis would change the lyrics to something that would just crack up everyone in the audience and Charlie as well!!

Someone in the crowd even carried a birthday cake for Elvis with lighted candles to the stage for his 42nd birthday!! He was surprised by this loving gesture... after setting the cake on stage everyone sang "Happy Birthday" to Elvis... needless to say there was not enough cake to go around!!! Elvis was then given another gift at the stage... a shrunken head that laughed when you pulled the string. Elvis thought it was the funniest thing!! Elvis was still a child at heart. Just another one of his appealing traits that everyone loved about him!!

I yelled at Elvis to sing "Reconsider Baby".. he pointed at me and sang it...I was elated to say the least.... for this was a song he seldom included in his show!! At the end of "hurt".... Elvis spun around and was lying on his back as he finished the last line!! You could really see he was feeling great and enjoying himself again!! I have always considered this one of my most favorite shows of all the ones I saw Elvis perform on stage!! I thought he was going to turn his life around after this tour.... regretfully that never happened.
Login to give your opinion