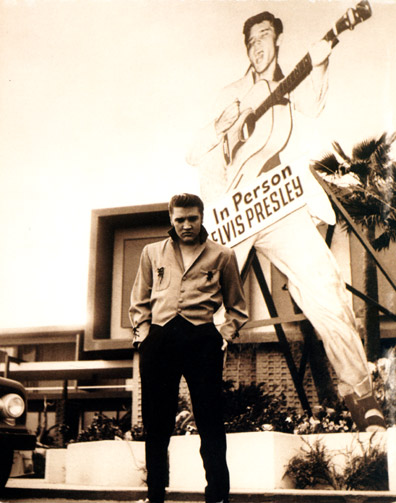 Taken on:

1956/04

Source:

Day by Day (Guralnick/ Jorgensen) / Last Train to Memphis (Guralnick

Photo:

OEPFC's Commemorative Album

Location:

New Frontier, Las Vegas

Info:

On April 22 Elvis arrives in Las Vegas for a two-week engagement at the New Frontier Hotel's Venus Room. During Elvis' stay in Vegas he meets a lot of stars like Johnny Ray and Liberace. Freddie Bell and the Bellboys inspire Elvis with their performance of Big Mama Thornton's Hound Dog. Also while in Vegas, "Heartbreak Hotel" hits the #1 spot in the pop charts.

The first show is on April 23, 8 P.M. It turns out that the older Vegas-audience isn't ready for the music that their kids adore. The engagement becomes a torture to Elvis; "It was awful… I wasn't getting across to the audience", Elvis admits in 1959. Variety writes about the show that "for teenagers he's a whiz, for the average Vegas spender, he's a fizz". Releases like and "Elvis Aron Presley" and "The King of Rock 'n' Roll" already showed that it isn't the music but the audience that makes the engagement a failure. On the new boxset "Live in Las Vegas" we can enjoy once more Elvis' frustration when he says "Thank you, music lovers" in a very sarcastic way. This last boxset shows perfectly the reason why Elvis' comeback to Las Vegas was a success. The audience didn't change much, but Elvis did....
Login to give your opinion