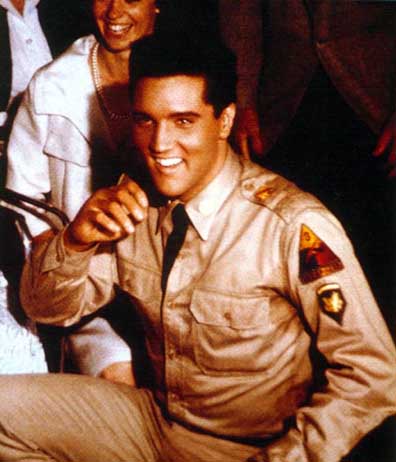 Taken on:

1960

Source:

CD "G.I. Blues" - the collector's edition

Photo:

Off-camera candid.

Location:

Hollywood

Suit

"Army"

Info:

Colonel Parker rented two private railroad cars to take Elvis and his entourage from Memphis to Hollywood as Elvis was still afraid of flying in 1960. Elvis was mobbed in Los Angeles' Union Station.

Production began on May 2, 1960, and lasted until the end of June. Other working titles for the film included "Cafe Europa" and "Dog Face." Elvis and Juliet Prowse never went outside of Hollywood for their scenes. Doubles were used for the location shots. A camera crew was sent to Frankfurt while Elvis was still on active army service in Germany, but producer Hal Wallis decided against using his star in case of media criticism.

A special showing of "G.I. Blues" took place at the Fox Wilshire Theater in Los Angeles on November 15, 1960. In attendance was Ronald Reagan. The movie opened in America on November 23 and reached No.2 on Variety's weekly list of top-grossing films.
Login to give your opinion