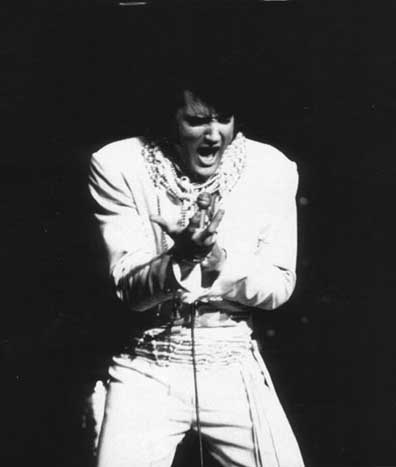 Taken on:

1970/02

Source:

A Life in Music - The Complete Recording Sessions (by Ernst Jorgensen).

Photo:

Elvis during his second Vegas season, January 26th - February 23rd. Taken from the digitally remastered "On Stage" album.

Location:

Las Vegas, Nevada

Suit

"Pearl Suit"

Info:

After the Sweet Inspirations and comedian Sammy Shore had warmed up the audience, Elvis burst onto the stage and into "All Shook Up". Gone were opening-night nerves, replaced by confidence and poise. The wild performance of four months earlier was toned down into a more controlled intensity, and at the request of the hotel Elvis did his best to cut his monologues back far enough to keep his performance to one hour-giving patrons time to return to the casino. The repertoire was just adjusted to showcase Elvis's current run of chart-topping singles, including "In The Ghetto," "Suspicious Minds," and the most recent hits, "Don't Cry Daddy" and "Kentucky Rain."

The Colonel and RCA took advantage of the opportunity to record another live album, and new sixteen-track recording equipment was brought in for Felton Jarvis and engineer Al Pachucki to work with. When they began recording at the midnight show on Sunday, February 15, a cold-ridden Elvis coughed during several songs; more worrisome, it soon became apparent that they were going to have a hard time coming up with enough new material for an album. At the early rehearsals before the Vegas run there had been talk of all sorts of material, from the gospel standard "I Was Born About Ten Thousand Years Ago" to Joe Cocker's recent hit "Delta Lady" to Pat Boone's 1957 ballad "Love Letters In The Sand."

But these and other songs had been dropped by opening night. Al Pachucki returned to Nashville with the tapes, leaving it up to him and Felton Jarvis to mix the tracks and complete the lineup for the new album. Still short on material, Felton turned back to the '69 concert tapes to supplement the set with "Runaway" and the first half of the "Yesterday/Hey Jude" medley.
Login to give your opinion