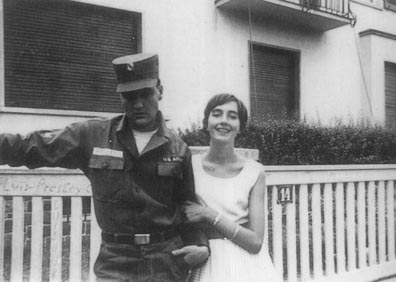 Taken on:

1959

Source:

Private Presley - Elvis in Germany (Schoer - Hentschell - Knorr)

Photo:

A bored Elvis, in GI outfit, with Siegrid Schutz

Location:

Bad Nauheim

Suit

GI outfit

Info:

When Elvis was in Germany to do his duty, he had several dates with (local) girls. Most famous girl may be Vera Tschechowa, but Siegrid Schutz was more photographed with Elvis than any other German girl. She regularly saw Elvis, and after all these years she talked about her relationship with Elvis to only a few people. She managed to be a 'secret love' for more than thirty years. In the summer of 1959 Siegrid, fifteen years old, was on vacation with her mother in Bad Nauheim for three weeks. She was almost every day at the Goethestrasse, where she often asked to see Elvis. Maybe because she didn't quit asking, Elvis' bodyguards gave up and Siegrid got to see her idol.

After a while, she often went with Elvis when he wanted to play rugby with his friends. Siegrid's first date with Elvis was when she was caught by Minnie Mae and Vernon with a friend in one of Elvis' cars. Elvis came out and told them not to do that again. After this Elvis and the two girls went to a party at the house of another GI, Rex Harrison. Since then, Elvis met Siegrid regularly. After these exciting three weeks, Siegrid and her mother went back home. In 1960 she met Elvis again in Bad Nauheim. Shortly after this, Siegrid returned home and Elvis left for the United States.
Login to give your opinion