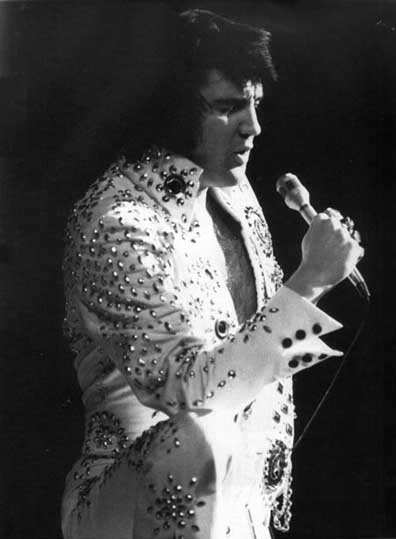 Taken on:

1971/11/08

Source:

Philadelphia Newspaper, written by Jonathan Takiff

Photo:

Photographer Ed Bonja (taken from the book Elvis-Standing Room Only by Joseph A. Tunzi)

Location:

The Spectrum, Philadelphia, Pennsylvania

Suit

Spectrum Suit/ black cape

Info:

Elvis has 'Em All Shook Up at Spectrum Concert

A peculiar odor wafted through the Spectrum last night...the smell of perfume and hair spray. Flashes of the fifties, of the Eisenhower generation predominated in this sellout crowd of 16.601 a squealing, squirming, even occasionally sobbing bunch paying homage to their king of rock and roll. It was the night that Elvis came to town.

Following a pleasant enough set from the Sweet Inspirations trio the charge went off last night at 9:20 P.M., trumpeted in to the schmaltzy tune of Strauss' "Also Sprach Zarathustra" and a blinding light show of camera bulbs. Decked out in sprangly white from up-turned collar to his boots, accented with silver buttons, black lined cape, black guitar and scarf, the raven-tressed (dyed, ya know) King made a spectacular appearance.

Which was really nothing, compared to Elvis' hour-long performance, a 19-song marathon accompanied by 24 musicians, a mixed chorus of 8 and a hefty security force of 25. Opening with his first claim to fame, Arthur Crudup's "That's All Right, Mama", Elvis seldom strayed from the winners circle. Though a sure-footed belter on the uptempo ditties (sharply accented by James Burton's guitar), El's throaty style proved best suited, as always, to the ballad form. Only this gent would dare pull off a transition from the raucous "Hound Dog" to his sweet gospel number "How Great Thou Art." And with an extraordinary gutsy rendering of "Bridge Over Troubled Water", Elvis put every other reading of this lovely song to near shame. The music is only half the show, however, when Elvis is on stage. Not quite the quite the kootch dancer of old, he still whips the crowd to a fare thee well with a sly shake of the head, wide spread sexy stance, knowing wiggle of the knee or karate kick to the imaginary gullet.
Login to give your opinion