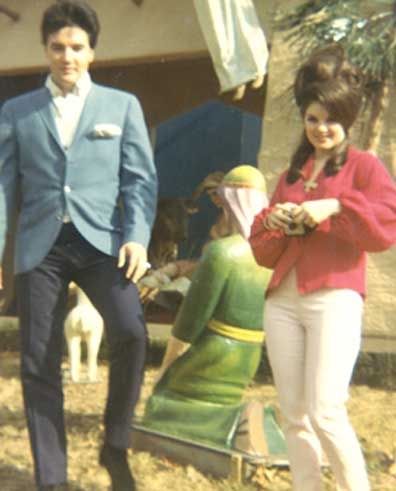 Taken on:

1967/12/25

Source:

Unseen Elvis (Jim Curtin) and Elvis Day By Day (by Peter Guralnick and Ernst Jorgensen)

Photo:

Elvis and Priscilla, Christmas 1967, backed by the life-size Nativity scene. (Candid taken by Sandi Miller)

Location:

Graceland

Info:

This is the date from the Unseen Elvis book. According to Sandi Miller, who took the photo, it should be about the same time but in 1965.

After completing 'Stay Away, Joe' in November, Elvis and Priscilla fly to San Francisco on December 10th to visit Priscilla's family, now stationed at Travis Air Force Base, near Sacramento. Here they stay until December 16, before returning to Memphis.

As it is almost Christmas, Elvis buys the Colonel an eighteen karat gold Accutron calendar wristwatch for $595 and a second watch for Tom Diskin. He also purchases a new grand piano for Graceland. Priscilla buys a gentleman's watch for $1,500 from Harry Levitch.

Chairs, champagne flutes, table cloths, and other party supplies are rented from Dixie Rents for the Graceland Christmas party. The grounds are decorated with the usual life-size Nativity scene (see picture) and eight lighted garland trees that have always been rented but are now owned by Graceland.
Login to give your opinion