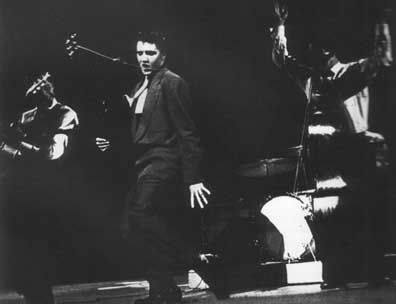 Taken on:

1956/01/28

Source:

Elvis A. Presley - Music, Human, Myth by Marc Hendrickx

Photo:

Elvis' first Dorsey performance

Location:

Dorsey Stage Shows

Info:

On January 10th 1956, Elvis Presley's first R.C.A. session started. Scotty Moore and others are skeptical about R.C.A. which may try to commercialize the sound of the recordings. But that won't happen. Highlights of the session are 'I Got A Woman' - with Presley on guitar - and 'Heartbreak Hotel'. Elvis does great things with 'Heartbreak Hotel'. The music is a mixture between rhythm & blues, pure blues and southern gospel. Elvis also sings a beautiful version of 'I Was The One'. This is not a surprise, as ballads are Elvis's great love.

Then Elvis does some Hayride shows and moves to New York with his band for the Dorsey's Stage Show. Elvis is a nervous time bomb and gives a rough and pure version of 'Shake, Rattle And Roll/Flip, Flop And Fly plus 'I Got A Woman. C.B.S. receives a few phone calls and letters from indignant viewers, who think the performance was vulgar. But their reactions are not enough to cause a mass protest.

Elvis does several Stage Shows the next weeks. 'Baby, Let's Play House', 'Tutti Frutti', 'Blue Suede Shoes', 'Heartbreak Hotel' and 'I Was The One' are done. Income: $ 1.250 per show and a fast increasing popularity. 'Heartbreak Hotel' is really doing well in the national charts. D.J. Alan Freed from New York supports the single terrifically and the Stage Show is a great base to enlarge the success.
Login to give your opinion