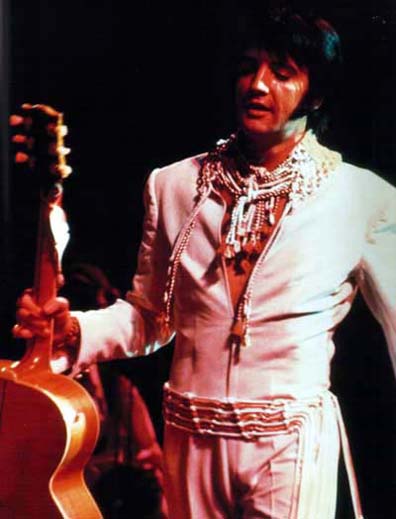 Taken on:

1970

Source:

Elvis the concert years

Photo:

Elvis the concert years (by Stein Erik Skar)

Location:

International Hotel, Las Vegas

Suit

Pearl Suit

Info:

New Musical Express, England: King Elvis Rules Vegas Again by Ann Moses

The king returned to his throne at the International Hotel, Las Vegas, last week. And there was no doubting he is Monarch! He was everything you could expect and more!

Elvis was again in Las Vegas, and the result of the sensational comeback 6 months earlier was that the shows sold out even faster than in August.

For those who knew Las Vegas and who were well informed about the great variety of entertainment in the city, it was a surprise to see Elvis back after such a short time, but these people made the mistake of comparing Elvis with other artists. Nick Naff of International explains this difference: "Elvis changes the entire metabolism of the hotel. And he is singularly significant in one regard: there is constant occupancy. For Tom Jones, they fly in, see the show, fly out again. Elvis has such a following, so many fans, that for him they fly in, check in and stay two weeks, going to every show."

The choice of songs made the 1969 season pretty sock 'n' roll - this time Elvis had decreased the tempo in the show by introducing a number of melodious ballads to his repertoire like "Don't Cry Daddy", "The Wonder Of You" and "let It Be Me." The opening song, "Blue Suede Shoes", had been changed in favour of "All Shook Up".

The opening show attracted a great many celebrities this time as well: Dean Martin, Zsa Zsa gabor, Juliet Prowse - and Elvis' wife Priscilla.

One obvious difference from the comeback season was that Elvis held shorter shows. His contract with International provided that he should be on stage for at least 35 minutes, as the hotel had thought that Elvis' performances last August of 80-90 minutes were too long. Perhaps they feared that less time spent at the gambling tables would decrease the takings from gambling. Another good explanation might be that, for a large part of his engagement, Elvis suffered from the notorious and feared "Vegas throat", caused by the dry desert air.

Elvis' month long engagement in Las Vegas meant big takings for not only International. At the Riviera Hotel, which is only a stone's throw from International, Dean Martin, who was last year's big star in Las Vegas, is still singing. Now his shows are often in front of half-capacity houses.
Login to give your opinion