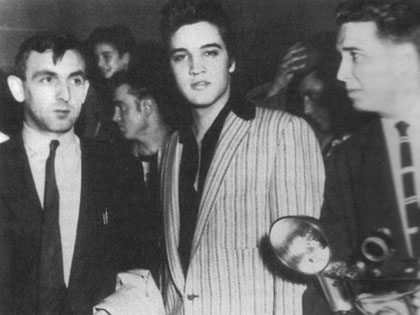 Taken on:

1957/04/03

Source:

Document transcription (taken from Elvis - Word for Word)

Photo:

Elvis meeting the Canadian media. (taken from Elvis - Word for Word by Jerry Osborne)

Location:

Ottawa, Canada

Info:

Gord Atkinson] Elvis, is this the first time you've been to Canada? Yes, it's my first trip to Canada.

[G.A.] Though it's too soon for any impressions, do you have any?

No. Yes. Well, I do. I was in Toronto last night [Maple Leaf Gardens concert] and I was very much surprised by how wonderful the people are. How friendly, you know, in this part of the country.

[G.A.] They have certainly been waiting for you for a long, long time.

I have been wanting to come up here. In fact, when I started looking at the tour, I said: "By all means. I want to go to Canada." About a year ago, I tried to get them to book a tour up here but I wasn't well enough known. A year and a half ago, everybody didn't know me well enough.

[G.A.] Sounds almost unbelievable.

So they figured I wouldn't make enough money.

[G.A.] No doubt about that now. Elvis, you've certainly even topped the popularity Frank Sinatra had in his heyday. This may seem like a foolish question for a Presley fan to ask - it seems like an obvious answer - but have you, yourself, given any thought to what it is about you that has made you the phenomenal show business personality that you are?

I sure have, only I don't like to figure it out because I'm afraid if I find out what it is, I might lose it. So I just keep guessing myself.

[G.A.] You just recently built a home?

Well, I didn't build it, I just bought it. It's an estate [Graceland]. It's about ten miles from where I live now [Audubon Drive]. We had to have a larger place because I have accumulated so much junk in the last two years, I just don't know where to put it.

[G.A.] Will you be living with your parents?

Yes.

[G.A] You are an only child, aren't you?

Yes sir.

[G.A.] Do you have a girlfriend, may I ask?

I don't have special [girl]. I mean, when I'm home I date a few different girls in Memphis, but I don't have a particular one.

[G.A.] Have you given any thought to the fact that some day you might meet a certain someone and decide that you'd like to get married?

I probably will.

[G.A.] Do you think this would hurt your popularity?

It probably will. I have no plans for marriage [soon]. I haven't met anybody yet.

[G.A.] What about your singing style? Would you say that you are an outgrowth of country music, or the pop field? Or a combination of both?

I guess I kind of like 'em both - more rock and roll than anything else. Rock and roll is actually, you see, what put me over.

[G.A.] There are many people waiting to talk to you and I want to thank you so much. I have something here to present to you. It's a scroll from our program, called Campus Corner. It is a show that is presented each Saturday. It's a teenage show, if you can imagine. We had a popularity poll, with the boys and girls on the station voting. And for the past year and a half you have been number one.

Oh, that's great. Thank you very much.

[G.A.] Elvis, I wonder if you'd like to say something to all those fans right now?

I would like to tell them how I deeply appreciate this. I guess I've gotten more mail from Toronto, Ottawa, and Montreal than any other place. I've gotten more fanmail from right around this area than I have from anywhere in the United States.

[G.A.] That's wonderful.

I am not telling that to you [just] because I am here, but is is very true. That is one of the reasons why I always wanted to come up here, because I've gotten more letters from Canada than I can count.

[G.A] That should make your fans here very happy. It has been a sincere pleasure talking to you, Elvis Presley.

Thank you very much.
Login to give your opinion