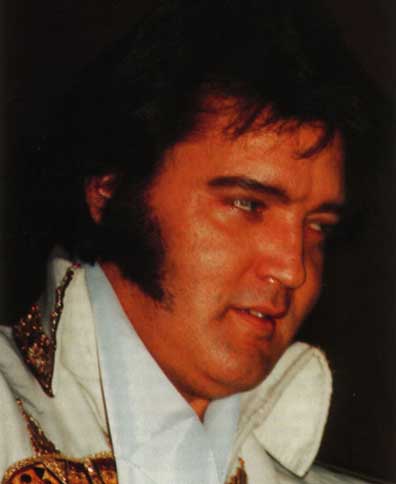 Taken on:

1977/05/29

Source:

Elvis The Concert Years Elvis Monthly No. 367

Photo:

Elvis The Concert Years (by Stein Erik Skar)

Location:

Baltimore, Maryland (Civic Center)

Attendance

12,841

Suit

Mexican Sundial Suit

Info:

Elvis was now so overweight that he could hardly manage to squeeze into any other stage costumes than the 'Mexican Sundial' one. He had two sets of this, and completed the whole tour dressed in this rather unflattering outfit. His face seemed extremely swollen and Elvis looked 15 years older and at least 15 kilos heavier than during the uplifting December tour less than 6 months earlier.

Despite further weight gain his spirits seemed much improved from the last two tours, and sometimes Elvis sang with a strong and clear voice. Some shows he completed quite well - like the one in Mobile. But not in Baltimore. On that warm Sunday evening of 29th May, when Elvis stepped out on to the stage at Baltimore's Civic Center, the standing room only 12,841 people in the audience had no idea of the unusual show that they were about to witness. Elvis was in the last few days of what would turn out to be his penultimate tour. In fact, he was only four weeks away from giving his final concert.

The show began in Elvis' usual driving fashion; after the initial screams and wild applause had died down, he and his band went into his regular opening numbers, then he retained his guitar to do "That's All Right, Mama" and tongue- in-cheek, "Are You Lonesome Tonight" aided by Charlie's facial expressions, and an un-seasonal "Blue Christmas." "You Gave Me A Mountain" was particularly powerful. But then came the first hint that something might be amiss, as Elvis asked Sherill Nielsen to sing a couple of songs. The king sat on a stool to rest, then returned to "Teddy Bear/Don't Be Cruel," sounding fine. Turning next to J.D. Sumner and The Stamps, he requested that they do a song. Facing the capacity crown again, he said, "I'll be right back. Hang loose!", before disappearing offstage. J.D and his quartet did their song, but since Elvis hadn't returned yet, resourceful Charlie Hodge asked Kathy Westmoreland to do a song. But naturally enough, the crowd was getting restless, as over fifteen minutes had elapsed. Then Elvis returned on stage. He apologized to the crowd, and told the audience that he had a twisted ankle, and, ah, that nature called. "And you don't fool around with nature!", he said. Of course they forgave him.

"Hurt" received a rapturous ovation, and deservedly so, as Elvis' magnificent voice soared, investing the song with power and emotion. A quick mood change, and "Hound Dog," with lots of shaking at the end, got the crowd all shook up. A little further along in the show, Elvis asked for requests, and complied with an earth-shattering "Unchained Melody." The audience responded with applause both during the song and at the high-voiced conclusion. Whatever was wrong with Elvis wasn't affecting his singing. The unique show was drawing towards its conclusion. Someone called out for "Burning Love," and Elvis responded with 'Burning stomach'. His penultimate number was "It's Now Or Never," and again it was a superb, outstanding ovation. It was time to close out this memorable show. The finale was one mad scramble for scarves at stage front, and Elvis tugged at his huge TCB ring, finally getting it off his finger, and dropped it into the seething mass of fans. A true professional, having given his all when he wasn't feeling good, but having left his adoring audience feeling good....
Login to give your opinion