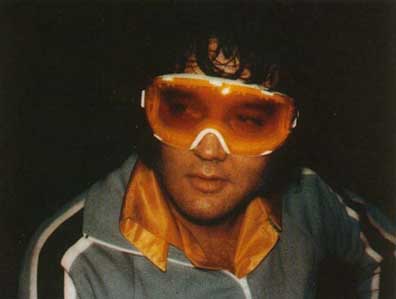 Taken on:

1976/01

Source:

Elvis The Concert Years by Stein Erik Skar.

Photo:

Unseen Elvis - candid's of the king from the collection of Jim Curtin

Location:

Vail, Colorado

Info:

Elvis spent his 41st birthday at the winter sports resort of Vail in Colorado. Like his previous birthday the day was just a further reminder that he was no longer a youth. he was a middle-aged man, and his spirits were often pitch black. Everything went wrong. The relationship with Red and Sonny West was no longer what it once had been. Another effect of the black moods during the Vail stay affected Jerry Schilling and Myrna Smith. Elvis phoned the couple in the middle of the night and asked them to move out of the apartment because Elvis himself wanted to move in there. Jerry protested and asked Elvis to wait until the morning, to which Elvis replied: "Listen Jerry, when I say jump, you jump." Schilling answered: "You can have the apartment. I quit." The following day Elvis apologized to the couple for his behavior and Jerry didn't quit.

The mood could also swing to the opposite extreme: during the Vail stay Elvis gave away 8 cars - two Continental Mark IVs and six Cadillac's....in other words Elvis wasn't happy in himself - and the abuse of pills was again on the increase.

A reporter on television, reporting about Elvis' many car gifts in Vail, looked straight into the camera and said: "Elvis, if you're watching - I wouldn't mind getting a car too." Elvis was watching and the following day a brand new Cadillac sat outside the TV station...

No wonder that on many Cadillac's in the 70s people put stickers saying: "I paid for this - Elvis didn't buy it."
Login to give your opinion