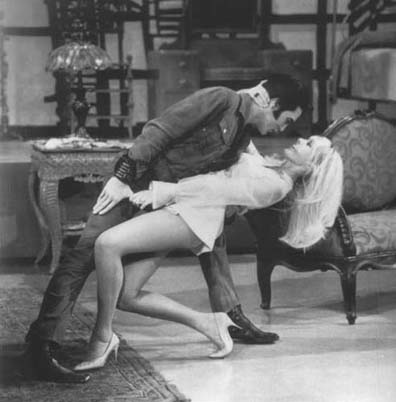 Taken on:

1968/06

Photo:

TIGER MAN Elvis '68 by Joseph A. Tunzi

Location:

Burbank

Info:

Elvis and Susan Henning (who worked with Elvis on the film, Live A Little, Love A Little) during the famous "Bordello" scene

On January 18, 1968 the news of Elvis Presley's first television special was announced in Variety magazine. The headline read "Presley's 2-Ply Deal With NBC." He was to do the television special plus a musical drama called Change of Habit for Universal Pictures. A few days before this announcement Elvis was in the recording studio finishing up the movie Stay Away Joe and recording his latest single, "U.S. Male," in Nashville. The times were a-changing for Elvis even before the television special when he got serious in September of 1967 recording "Guitar Man," "Big Boss Man," and "Hi-Heel Sneakers" - ironically the first two would be included in the T.V. special. Elvis had been setting his plan to return to television and live performing.

The famous "Bordello" scene didn't get past the NBC censors when the show was first broadcast on December 3, 1968. However, it made it on the air in late 1977 after Elvis died with additional footage containing the songs "Let Yourself Go" and "It Hurts Me" as part of a three hour special that included the 1973 show, Aloha From Hawaii. The show was hosted by Ann-Margret, titled Memories of Elvis.
Login to give your opinion