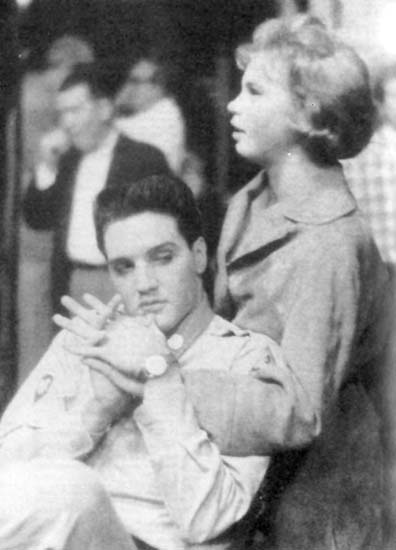 Taken on:

1960/05/05

Source:

Elvis Monthly no. 429

Location:

On the set of G.I. Blues

Suit

Army

Info:

Juliet was born in Bombay, India, on September 25, 1936, daughter of an Englishman and his French-English wife. Juliet attended dancing classes and she also studied modern dancing. She was a huge success in the stage production Kismet, then became lead dancer in a Paris nightclub, but had a riding accident. Recovered, she toured Spain and Italy, and it was in the latter place that famed Hollywood choreographer Hermes Pan saw the 5' 8" tall hoofer and offered her the role in Can-Can that was bring her to a wider public. She made great impression as the Serpent, and she also attracted the attention of the film's star - Frank Sinatra. Romance blossomed and the two got engaged.

It was Sinatra, who told Elvis about the talented young dancer and offered to introduce him to her, as she might be just the person to co-star in his new movie. Hal Wallis said; " I had a feeling Miss Prowse was just what we were looking for the moment I saw her." After signing the contract, Juliet said, "This is my biggest thrill. First Sinatra, now Presley! How lucky can a girl get?" Elvis and Juliet worked together well, and became really close. One account said they arrived at the studio at 7 am and all day long they were inseparable. Inevitably, rumours of a romance buzzed around Tinseltown, fuelled by the movie magazines and fired by Juliet's close relationship with Sinatra.

There were rumours of a cooling of the friendship and a fierce quarrel between Old Blue Eyes and the king. All the stories and speculation were good publicity for the film, at any rate. There was talk of Juliet being cast in Blue Hawaii a year later, but Joan Blackman got the part after stories about Juliet demanding her own hairdresser amongst other things. Juliet went on to dance her ways through an illustrious career. She never did marry Sinatra; on August 8, 1967, the Daily Mirror had a photo-feature with the headline, "The girl tipped to wed Elvis, engaged to wed Sinatra...will marry someone else." Juliet died of pancreatic cancer shortly before her 60th bithday. She'll always have a special place in the hearts of Elvis fans.
Login to give your opinion