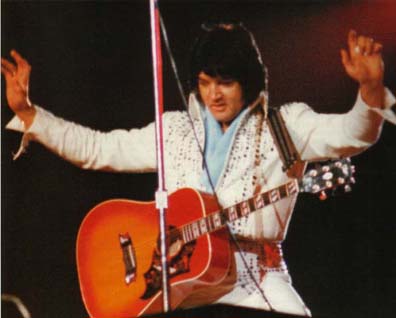 Taken on:

1975/12/31

Source:

Concert review by Richard Allen (Elvis Monthly, January 1996)

Photo:

Elvis Day By Day

Location:

Pontiac Stadium, Detroit Michigan

Attendance

60.500

Suit

Rainfall Suit and the Pon

Info:

Elvis was at Las Vegas in December, 1975, when it was announced that he was planning a special New Year's Eve show at the Detroit Lions' football stadium in Pontiac. This would be the second concert to be held at the Silver Dome. The first was headlined by The Who earlier that same month. The Colonel had discussions with the stadium executive director and stadium promotions director weeks before the show to arrange many of the details that had to be finalized prior to any Elvis engagement. He requested that the 20.000 plus capacity top level would remain empty during the concert. The reason for this was that he wanted everyone to have reasonable view of the show. Some cynics suggested that the real reason was because Presley couldn't have sold-out otherwise and that the Colonel always wanted a sell-out crowd for his boy. Even without these seats, Elvis was about to play to the largest crowd of his career. A crowd of 63.000 people were about to join Elvis in welcoming in 1976, the US Bicentennial Year. The closest seats were approximately 30 to 40 ft away from the stage. A special tunnel, 16 ft wide, 8 ft high and 70 yards long, was constructed from sheets of plywood leading from the dressing rooms to the stage. Forty-eight jumbo speakers were arranged in a circle round the stage.

After completing his stint at Las Vegas, Elvis returned to Graceland for Christmas. He then flew to Los Angeles to spend some time with Lisa Marie and then flew back to Graceland prior to going to Pontiac. The fans started filing through the doors at 7pm and at 8.30 Jackie Kahane opened the show. After this things started to pick up. J.D. Sumner and The Stamps Quartet did a tremendous set witch included " You'll Never Walk Alone " and " When The Saints ".

They were followed by The Sweet Inspirations who were, as usual, enjoyed and appreciated by the fans. Then came a short intermission. At couple of minutes before 11pm, the Joe Guercio Orchestra started to play the familiar 2001 Theme and suddenly Elvis, who had ridden through the tunnel in a golf cart, popped up through a whole in the bottom tier of the stage, where the band was situated and was immediately blinded by tens of thousands of exploding flashbulbs and surrounded by a deafening welcome of applause, screams and shouts. Elvis was wearing the Rainfall Suit, which he had first worn in Vegas earlier that month. He looked healthy and fit and trimmer than in some of the shows earlier in the year. Looking out towards the massive adoring crowd and then downward he appeared surprised at the drop to the ground below. After greeting the members of the band Elvis climbed up the few feet the platform he would perform on.

The show opened with the familiar "See See Rider", "I Got A Woman/Amen" and "Love Me". After repeating the "Amen" ending to "I Got A Woman" Elvis said, "Thank you very much, good evening Ladies and Gentlemen, as you can see I've ripped my pants...", which indeed he had! "Love Me" was followed by good versions of "Trying To Get To You" and "And I Love You So". Elvis then did a few oldies, namely, "All Shook Up" a "Teddy Bear/Don't Be Cruel" medley, "Heartbreak Hotel" and an excellent version of "One Night", which was very reminiscent of TTWII.

A very energetic and loud "Polk Salad Annie" followed with Elvis moving around the stage and performing for every part of the audience. He obviously enjoyed doing this song even though it had been part of the repertoire for more than five years. At one point he put the microphone down on the stage and adopted a mean looking karate stance and then, slowly, demonstrated some karate moves before finishing the song. Elvis then walked around trying to get his breath back and announced that "this is the best year I've ever had!" Then he apologized that he would have to go and change suits, assuring everyone that he wouldn't be long and the Stamps were asked to sing "Sweet Spirit".

When he returned he was wearing the V-neck suit with pattered puff sleeves and proceeded to introduce of his group. Charlie Hodge was not introduced at this point!

Elvis then sang "My Way" and made mention that he had sung it in his television special from Hawaii. Although he did use the sheet music and restarted some parts, he nevertheless ended the song magnificently. Foreshortened version of "Love Me Tender" was next, without any of the usual kissing due to the stage height. A sign flashed on saying "two minutes to 1976". Elvis then announced that in a few minutes it would be the New Year and he asked if the crowd would join him in singing "Auld Lang Syne". The crowd counted in unison, with Ronnie Tutt hitting his drums at each count, and Elvis sang, for the first time on stage, a couple of verses of "Auld Lang Syne". Thousands of different coloured balloons were released into the cold midnight air. Elvis said after the show that it was a good job that the crowd were noisy and yelling so loud because he only knew the first verse.

The first complete song performed by Elvis, in 1976, was "How Great Thou Art". He then had a lot of fun with "my biggest selling record", "It's Now Or Never". An excellent version which the fans really appreciated. This was followed by an emotionally charged rendition of "America The Beautiful", which caused the crowd to stand as Elvis' voice soured to hit the notes. Elvis then proceeded to thank "all the people who made this show possible" with special mentioned for Felton Jarvis and Bill Porter. He remembered to introduce Charlie and joked with him for forgetting to do it earlier. The crowd obviously thinking this was the end went wild and Elvis said, "We're not leaving yet,what d'ya wanna' hear?" A good version of "Hound Dog" followed and then one line of "Wooden Heart" and the show was finally coming to an end. "I would like to thank you very much Ladies and Gentleman and 'till we see you again, may God bless you".

When "Can't Help Falling In Love" finished, Elvis left the stage fairly quickly. The crowd applauded for 10 minutes after he left the stage, the reviews were generally complimentary with headlines such as "The Legendary Elvis Dazzles New Year's Eve Stadium Crowd" and "Elvis still shakes 'em up". Elvis had set a record attendance for a performance by a single artist and kicked-off 1976 on a real high!.
Login to give your opinion