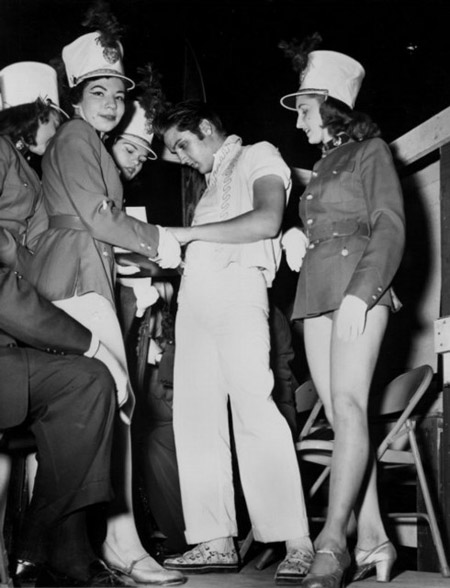 Taken on:

1956/09/29

Source:

Elvis Day by Day

Photo:

Internet

Location:

Memphis Fairgrounds, at the Mid-South Fair

Info:

Our picture takes us back to Saturday September 29th 1956, to the annual Mid-South Fair in Tupelo. Elvis himself performed in his hometown three days earlier, on Wednesday the 26th, at the Mississippi Alabama Fair and Dairy Show. On this picture Elvis is signing autographs for dancers in 'Stars Over Dixie.' The group was was a Broadway extravaganza booked for the fair in honor of its centennial anniversary. Elvis came back to Tupelo in the company of his friend Nick Adams, he briefly took the stage again for a bow during the performance of Irish tenor Dennis Day. The next day Sunday September 30th 1956, Elvis flew to Los Angeles. There he would do some extra work for his first movie, 'Love Me Tender.' On the Fox soundstage he would record an extra verse of 'Love Me Tender,' to use over the film's final credits.
Login to give your opinion
Great legs the lady to Elvis' left !