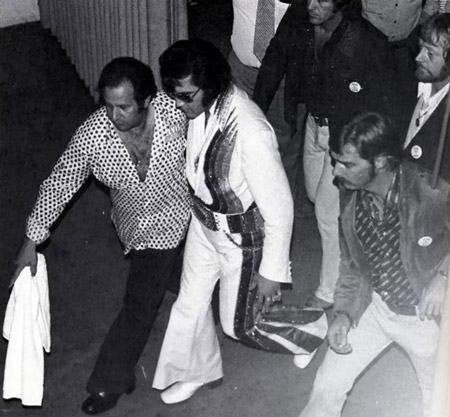 Taken on:

1974/09/28

Source:

Various

Photo:

Internet

Location:

College Park in Maryland

Attendance

15,000

Suit

Blue Rainbow Suit

Info:

Not too many people on this picture but you can feel the excitement! We can see our man Elvis heading for the stage at the College Park in Maryland on September 28th 1974. Everyone around him knows they have to do their best for the star of the show! At Elvis his right side, we can see Joe Esposito and at his left is Dick Grob. Behind Dick we recognize Red West.

On Thursday September 26th 1974, Elvis flew out of Memphis to begin his fourth tour of that same year. The next day he performed his first of two shows at the University of Maryland Cole Fieldhouse, College Park in Maryland. It was the start of a two day Elvis Festival in the city! The next day Elvis would be on stage again in Maryland. In total about 30.000 fans enjoyed the shows!
Login to give your opinion
Great picture,great camera angle.Elvis looks awesome here.