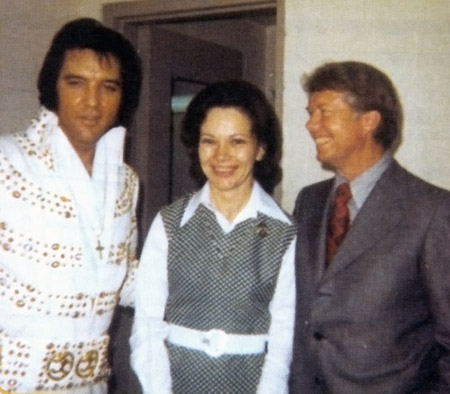 Taken on:

1973/06/29

Source:

Elvis Day by Day/Various

Photo:

Internet

Location:

Backstage at the Omni in Atlanta, Georgia

Info:

Beautiful picture of the King and the 'to be' President of the Untited States. On this picture, probably made on June 29th 1973, we can see Elvis with Governor Jimmy Carter and his wife. (Carter was the Governor of Georgia from 1971 until 1975.) Elvis performed at the Omni in Atlanta, Georgia for two days in a row; Friday June 29th and Saturday June 30th 1973. He started this tour on June 20th in Mobile, Alabama. And since demand was so great in Atlanta, two shows were added. On June 21st on the second day of the tour and at the end of the tour, on July 3rd.

Jimmy Carter was President of the United States from 1977 until 1981. When Elvis passed away in 1977, President Jimmy Carter said the following words in respect to Elvis.

'Elvis Presley's death deprives our country of a part of itself. He was unique and irreplaceable. His music and his personality, fusing the styles of white country and black rhythm and blues, permanently changed the face of American popular culture. His following was immense and he was a symbol to people the world over, of the vitality, rebelliousness, and good humor of his country'.
Login to give your opinion
TBG
wrote on
June 05, 2011
Great picture, Elvis looked wonderful the summer of 73. His popularity had been boosted after the Aloha-show and everyone wanted to see him live. Great to see that Carter attended one of Elvis' shows, maybe he was a fan? The words spoken by him when Elvis died just goes to show how Elvis affected everyone, from the ordinary man to the President.
It's only a guess but I think the picture is more likely to have been taken on the 30th of June because that's the only date in 1973 where Elvis wore this great looking suit. I think if I could go back to any tour it would be June 1973. Great repetoire, great voice and still reasonably slim. The King! Great picture.
Duh! I mean the only date in 1973 where Elvis worse this suit in Georgia.