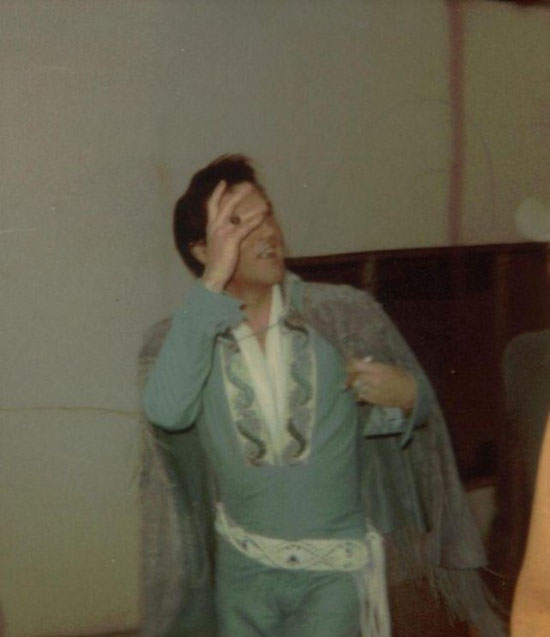 Taken on:

1970/02/27

Source:

Various

Photo:

Internet

Location:

Houston Astrodome, Houston, Texas

Info:

It is a pity that Elvis his hand is in front of his face because he just waved at the moment this picture was made... But this unique picture of Elvis arriving for one of his two performances on Saturday February 28th 1970 at the Houston Astrodome is a beauty, that's for sure! On Wednesday 25th of february 1970 Elvis flew to Houston, Texas. Over a period of three days, starting on Friday February 27th, he will perform six shows there. The performances at the Houston Astrodome, at the Annual Texas Livestock Show, are the first outside Las Vegas since 1961 for Elvis. On Friday he held a press conference, and in the evening he gave two shows; at 2:00 and 7:45 P.M.. On Saturday Elvis gives again two shows; at 2:00 and 7:45 P.M.. The evening crowd of 43.614 sets a record for indoor rodeo performances in any arena. It would hold for eight years! For the third day in a row Elvis gives on Sunday again two shows in the arena, this time at 2:00 and 7:00 P.M.. Over the three days 202.989 people have seen The King in action!!

In 1974 Elvis was be back at the Houston Astrodome. When he gave again two shows on Sunday the 3rd of march, at 2:00 and 7:00 P.M..
Login to give your opinion
What a great picture!! If it weren't for the way he is dressed, I would have thought this was from the 1950's!
I was thinkin that he looks like Elvis in Roustabout dressin up to imitate Elvis at the Hilton...What a GREAT pic, (too bad about the hand in the way,) but a great pic!!
Awesome picture.It certainly does look like a 50s Elvis.Just brilliant.