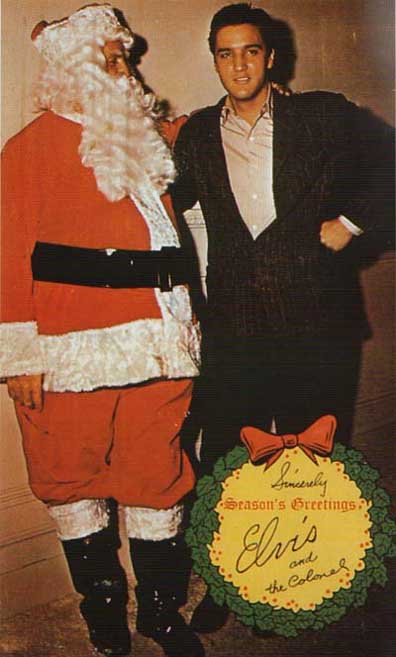 Taken on:

1960/12

Source:

Elvis Day By Day (by Peter Guralnick and Ernst Jorgensen)

Photo:

The Elvis Encyclopedia (by David E. Stanley and Frank Coffey)

Suit

Red and White Christmas,

Info:

On November 9th principal photography for Wild in the Country begins on location in Napa, California, where the film company stays at the Casa Bellevue-al Motel. December 23th is Elvis' last day on the set before flying home for the week off that the Colonel has arranged. Elvis spends his first Christmas at Graceland since the death of his mother.

This picture of the week was the Christmas card from Elvis and the Colonel, taken on the movie set. Other pictures were made with the Colonel and costar Hope Lange sitting on Elvis' knee.

Important to report is that members of Elvis' entourage begin to take notice of Elvis' frequent mood swings and occasional eruptions of temper during the shooting of Wild in the Country. On a weekend excursion to San Francisco, Elvis pulls a gun on a group of guys in another automobile who he feels have insulted him. His performance in the film seems to betray the amphetamine use that began in the army.
Login to give your opinion