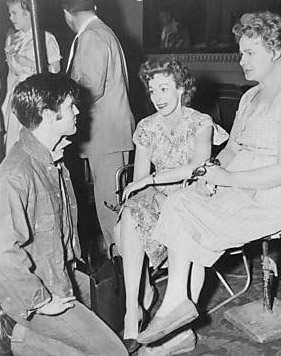 Taken on:

1957

Source:

Various Internet

Photo:

Various Internet

Location:

On the set of 'Loving You'

Attendance

At least 5

Suit

Jeans

Info:

A behind the scenes picture for you all to enjoy this week: Whilst filming his own Paramount movie, his second one called 'Loving You.' Elvis was seen on the set of another picture called 'Hot Spell.' He is in the company of Eileen Heckart (left) and Shirley Booth (right). 'Hot Spell' was also produced by Hal B Wallis. Filming took place during the months February and March 1957. The movie premiered on July 9th 1957, by then Elvis had already finished filming his third movie 'Jailhouse Rock.'

Some background information about the actresses…

Eileen Heckart won an Academy Award in 1973 for her role as Mrs. Baker in 'Butterflies are Free.' Next to movies she also appeared in many television series. During the season 1975-76 she also starred in three episodes of the Mary Tyler Moore Show. Her role as Marge in the series 'Cybill' was her last in between 1996 -1998. She died on the last day of the year 2001 at the age of 82 years.

Shirley Booth was primarily a theatre actress. Her most significant success was as Lola Delaney in 'Come Back Little Sheba,' for which she received a Tony Award in 1950. She made her film debut, reprising her role in the 1952 version, and won both the Academy Award for Best Actress and Golden Globe Award for Best Actress for her performance. She passed way at the age of 94 years in 1992.
Login to give your opinion
Aarons
wrote on
December 05, 2010
I've seen hundreds of Elvis photos and I've never seen this one. I'm just wondering will there ever come a time when I've seen every Elvis photo. I'M Not complaining, just an observation. I wonder if Elvis got tired of having a camera in front of him. I think this is the first photo I've seen of Elvis on another set.