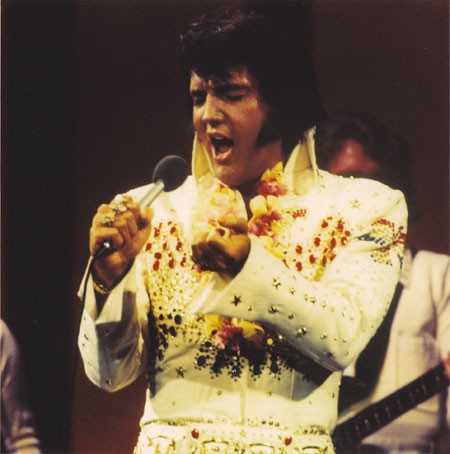 Taken on:

1973/01/13

Source:

Elvis (F00l) FTD release

Photo:

Elvis (F00l) FTD release

Location:

Honolulu International Center, Hawaii

Attendance

6,000

Suit

American Eagle Suit

Info:

This great pic is taken from the classic albums release by FTD of Elvis (Fool).
Login to give your opinion
I guess the fact that the Aloha shows were shot (for the most part) in heavily lit conditions changed the dynamic of the Presley concert experience. Of course, the same can be said of the Elvis In Concert TV special. Both documents should be taken as departures -- of a sort -- from the norm. There was less room for error, it seems, and each mistake was laid bare for all to see. In my opinion this was a tactical mistake on the part of, respectively, NBC and CBS. Just recall the tension captured in Elvis On Tour, the constant barrage of flash photography, lightning flashing in darkened auditoriums all across the Southland (as D.J. Fontana said, "it looked like a war out there!"). Just recall, too, that moment before Funny How Time Slips Away when the houselights go up and the audience screams—that sense of release. There was a certain allure when the King was shrouded in darkness, the audience remaining unseen, only suggested at in the Aloha shows by a spotlit performance of Fever. But the Aloha shows were equally charged because they forced Elvis to hide, not in the dark, but behind each beautifully rendered ballad, each country music lament, and those tantalising jolts of rock 'n' roll.
I couldn't agree with you more "Otisblue22". I really wondered everytime why they left the arena lights turned on.To me an elvis concert is more elvis style with flash bulbs, screams thousands of hands to wave in front of stage and ofcourse the darkness. If I were in that concert, I would be a little bit nervous;even as a normal audience member. Because everyone would see me screaming,standing. Well I have sleftrust a lot but after a time you don't wanna be the one in a huge auditorium, then people will think you have a superiority complex. :( Always EL...