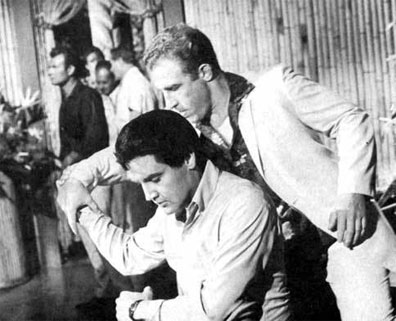 Taken on:

1965

Source:

various

Photo:

Internet

Location:

Probably on the set of 'Harum Scarum'

Info:

We serve you a picture from 1965 this week. Made during the 'movie years,' it is 'guessing time again' on the facts behind it, but as this is such a unique picture we did want to share it with you all. We assume that it was made during the filming of 'Harum Scarum.' Elvis is rehearsing a movie scene in which a stuntman is helping him. We recognize friend and actor Lance LeGault behind Elvis. Lance did help Elvis often with his moviework and can be seen in some of Elvis his movies. We spot him for the first time in 'Girls!Girls! Girls!' (1962) as the bass player while Elvis sings 'Return To Sender.' Two years later he was seen in 'Kissin' Cousins,' in some of the scenes where both Josh Morgan and Jodie Tatum were present he played one of them. That same year he also got small parts in 'Viva Las Vegas' and 'Roustabout.' He is also sitting by Elvis his side shaking a tambourine, during the 'sit-down' recordings for the '1968 Comeback Special.'

William Lance LeGault, who already has a long acting career behind him, is still working but will be best remembered for his role as Colonel Decker in 'The A-Team.'

After adding this picture we received this message:

The photo of Elvis is not with Lance LeGault. It is with Gene LeBell.

Gene was a stuntman that worked on Paradise, Hawaiian Style where the picture was taken.

See Gene LeBell's website - where the same photo is located.

http://www.genelebell.com/gallery-movies.html

The website indicates the photo was taken during the making of Blue Hawaii - but was in fact taken during the steakhouse sequence with Julie Parrish. The steakhouse was referred to as the "Colonel's Steakhouse."

I asked Micky Moore the Director of that film, if it was a coincidence that the steakhouse was referred to as "Colonel's Steakhouse." He told me the property man was probably playing a gag on the Colonel.
Login to give your opinion
~ Interesting photo of Elvis with Gene LeBell... born October 9, 1932... an American martial artist, instructor, stunt performer, and professional wrestler born in Los Angeles, California. LeBell has also worked on over 1,000 films and TV shows, and has authored 12 books.