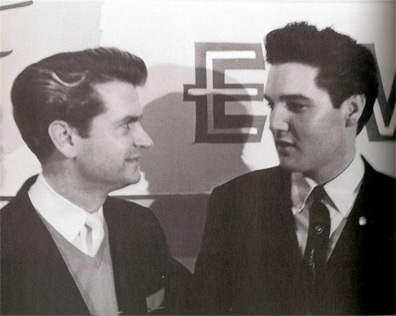 Taken on:

1961/02/25

Source:

Elvis Day By Day

Photo:

Elvis Day By Day

Location:

Claridge Hotel in Memphis

Info:

Two men who completely changed the history of music!

On the right we can see our Man Elvis and on the left we reocgnize Sam Phillips, owner of Sun Records in Memphis. This nice picture was made on February 25th 1961 at the press conference at the Claridge Hotel in Memphis. It was a great day for Elvis, because on that day Tennessee govenor Bulford Ellington and Memphis mayor Henry Loeb declared the day 'Elvis Presley Day!'During a special lunch at the Hotel Claridge, Elvis received a diamond-studded watch to honor record sales of more than 75 million from RCA. At the press conference at 1:45 P.M., Sam Phillips asked why Sun Records gets so little recognition for Elvis his succes. He reminded everyone at RCA that they wouldn't have Elvis if it wasn't him. It is nice to know that in the years after this picture was made, people DID realize the impact of Sam Phillips his actions back in 1954 and Sun Records got the recognition it deserved.

Look out for the next picture we will present you, it will be a follow-up to this one!
Login to give your opinion
A collaboration every bit as important as Paul & John's!