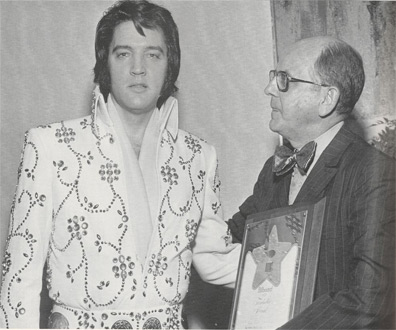 Taken on:

1973/08

Source:

Elvis Standing Room Only (Tunzi)

Photo:

Ed Bonja

Location:

Las Vegas

Attendance

at least 2

Info:

The 'Aloha from Hawaii' special was from the start a special moment in the history of music and world history itself. It was appreciated by millions around the world. So during his Vegas engagement in August 1973, Elvis was presented with the 'Billboard Magazine Trendsetter Award' for being the first entertainer to perform world wide via satellite in 'Aloha from Hawaii.' The man standing beside Elvis is a representative from Billboard Magazine.
Login to give your opinion
Beautiful picture and well deserved award.