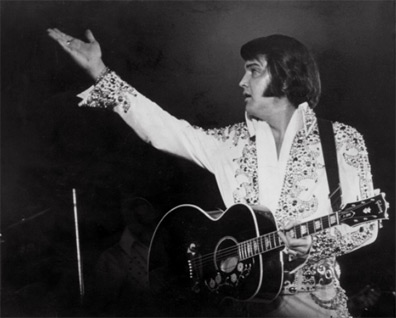 Taken on:

1974/03/20

Source:

various

Photo:

The Commercial Appeal

Location:

Memphis, Tennessee

Attendance

12.300

Suit

Memphis Suit

Info:

This one was during the concert Elvis gave in his hometown Memphis on March 20th 1974 at Mid-South Coliseum. He began his tour on March 1st and in those twenty days he visited 15 cities and made over 358.000 fans happy!! Elvis ended his first tour of that year in Memphis with concerts on 16, 17 and on Wednesday night the 20th. There were 12.300 people who watched Elvis perform one of his best concerts ever. It is also this concert that was recorded by RCA and that was released on record the same year in July ('Elvis Recorded Live On Stage in Memphis').

This is almost a symbolic picture, because it is as if Elvis says 'Thank You' to his loyal fans.
Login to give your opinion