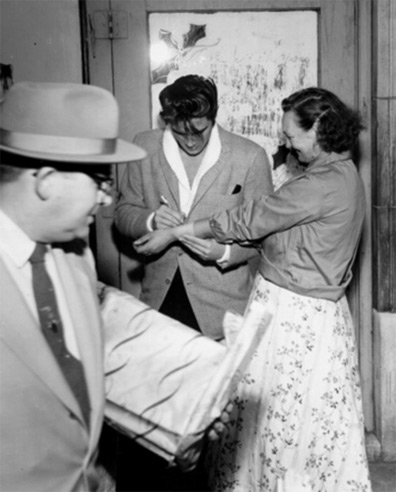 Taken on:

1957/12/16

Source:

The Commercial Appeal

Photo:

Tom Barber

Info:

Elvis was always a man with the most generous heart, but also a man who did not forget who was there for him when he and his family were struggling to survive… So on December 16th 1957 Elvis was at the Goodfellows headquarters to present the Press-Scimitar Goodfellows with 100 brand new $10 bills. Elvis let it be known that the Goodfellows had played Santa Claus for him seven years earlier. "Our family had it pretty rough that year," he recalled. "The Goodfellows made my Christmas for me." And as it would seem, Elvis did not only have teenagers as fans! While he was there an unidentified woman approached Elvis with a request: "Elvis, please autograph my arm!" Elvis being the man he was, did so for her!

It were busy times for Elvis in December 1957, a lot would change for him in this month. Because also on the 16th the Memphis Draft Board let him known that he will be receiving his draft notice very soon. He did so three days later and picked it up the next day.
Login to give your opinion
Does anyone know who the man in the front of picture is? I have seen him on a number of Elvis pics...it doesn't look like Parker.