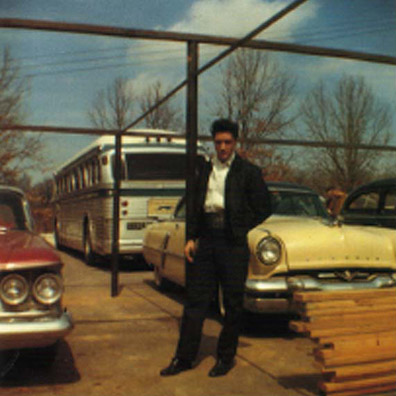 Taken on:

1960/03/20

Source:

Elvis Day By Day (by Ernst Jorgensen and Peter Guralnick), Elvis Music, Human, Myth (by Marc Hendric

Photo:

Elvis gets ready to leave Graceland for his first post-Army recording session (booklet in the 'Essen

Location:

Memphis

Info:

At noon Elvis, his entourage, Scotty and D.J. Fontana (but not Bill Black, who never plays with Elvis again) take a chartered bus to Nashville for a session at RCA's Studio B, whose recording facilities have been upgraded with a new three-track machine. There they are joined by all the musicians from the June 1958 session, the Jordanaires, Colonel Parker, various RCA executives, and RCA's new chief studio engineer Bill Porter. In order to avoid both unwanted publicity and an avalanche of fans, top-secret conditions prevail, with the Nashville musicians told they will be working a Jim Reeves session.

Elvis' fans wonder what Elvis is going to do, now the scene has been changed totally. Little Richard has "found the lord", Buddy Holly died, Chuck Berry caught up in a court case, and Jerry Lee Lewis' career is finished after the marriage with a thirteen years-old girl. The rock stars of the fifties are gone.

In the studio all attention was focused on the young man with the upswept dark hair, a new-found but easy-going military bearing, and that familiar unself-conscious laugh that filled the studio and innocently disarms all the unvoiced fears. Before anyone knew it, the musicians all gathered around him at the piano, and he was telling tales of tank maneuvers and Army life. Then, without really seeming to focus on the session itself, with no apparent concern either for time or the business at hand, he took charge, and they sang spirituals and snatches of his hits. Before the session ever began, there was music in the air, and if he was feeling the pressure, he certainly didn't show it.

Elvis was back!.
Login to give your opinion