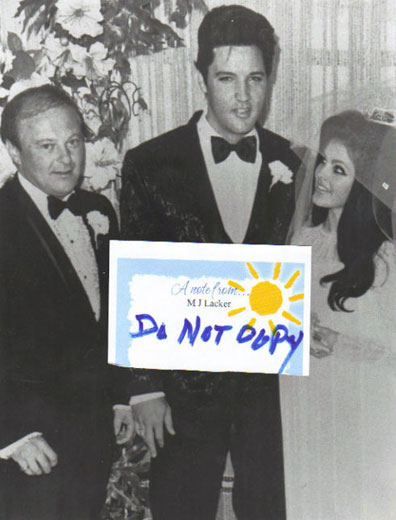 Taken on:

1967/05/01

Source:

Marty Lacker Personal Collection

Photo:

Elvis Presley's Best Man

Location:

Aladdin Hotel, Las Vegas Nv.

Info:

In late November, 1966 Elvis took Marty aside on the steps leading from the basement to what is now called The Jungle Room in Graceland and in strict confidence he told Marty he was going to marry Priscilla because her father basically threatened to sue him for breach of promise and that he would also go to the media and tell them that Elvis had been living with Priscilla when she was only 17 at the time. He said he talked with Colonel Parker and Parker advised him to marry her and avoid the bad publicity. Marty told Elvis that Priscilla's father wouldn't do that because that would make him,her father, look like a terrible parent who would let his daughter leave home to come to America to be with Elvis. Marty was explicate in telling Elvis to tell her father to go F... himself.

However Elvis said no he was going to marry her and then told Marty, "And I want you to be my best man." That immediately made Marty think to himself, "Why me? Why not Billy (Smith), or Red?" Then he said to himself, "And Joe (Esposito) is gonna' be pissed." He felt that way because Joe always thought he was special in the group and Marty knew Joe would find some way to take his place or at the least be Co-Best Man. Neither Elvis nor the MM thought Joe was any more special than anyone else. The only one in the group that could have had that distinction was Billy Smith because although he was a first cousin, he was more like a younger brother to Elvis and they were close since Billy was born eight years before Elvis.

Marty was right and at the urging of The Colonel and Priscilla, Joe was added as Co-Best Man in April of '67, just a few weeks before the wedding.

May 1st came along and Elvis,Priscilla and the Memphis Mafia along with a few invited guests flew to Las Vegas from Palm Springs, California and the wedding was held early that morning at the Aladdin Hotel.

The picture above was taken right after the ceremony and before they all went to the reception.

Marty Lacker is auctioning his personal photo collection on eBay. Check out item: 260500086695.
Login to give your opinion