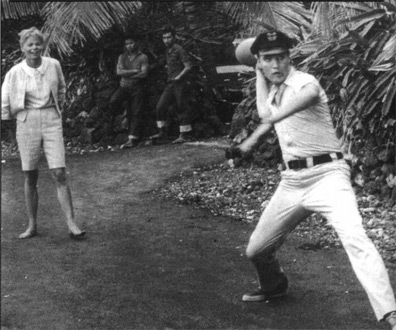 Taken on:

1962

Source:

internet

Photo:

internet

Location:

Hawaii

Info:

Sporty picture of our man this time, without any doubt during the filming of 'Girls!Girls! Girls!' in 1962 in the beautiful Hawaii. Football was always one of Elvis his favourite sports and during filming he would clearly enjoy some action with the ball! In the back we can see his co-star Laurel Goodwin enjoying the view.
Login to give your opinion
Cher
wrote on
September 26, 2009
Always love to see pictures of Elvis having some fun and relaxation time. But I have wonder about the really sour looking dudes in the background. Don't appear to be Elvis fans, if you know what I mean.
My guess: Exploited and angry native Hawaiians.