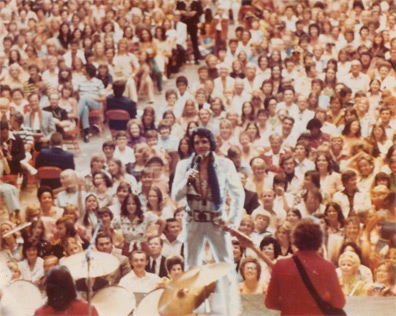 Taken on:

1975/07/08

Source:

The Concert Years

Photo:

internet

Location:

Myriad Convention Center

Attendance

15,291

Suit

Indian Feather Suit

Info:

How about that crowd, hey? Each and everyone looks very happy in Oklahoma City on Tuesday July 8th 1975. During the 8.30 P.M. show at the Myriad Convention Center, where the attendance was 15,291 people! We can see Elvis in his beautiful 'Indian Feather Suit.'

Just before this tour Elvis had finished another one that he did from May 30th up to June 10th. Shortly afterwards Elvis was again admitted to hospital, for two days this time. The trouble with his eyes continued to give him problems. The diagnose of glaucoma would always be a source of treatment for him. Eventhough the stage lights were part of the problem, Elvis still gave all for his fans and was back on stage for another tour from July 8th till July 24th 1975. During this tour he was full of life and looked absolutely fantastic!
Login to give your opinion