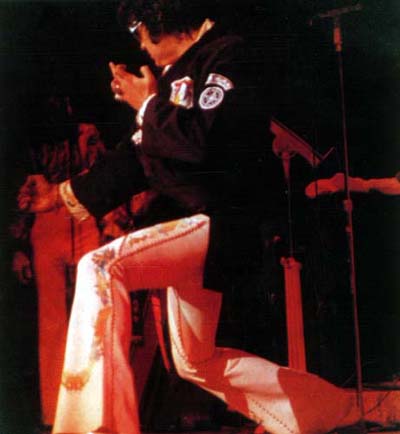 Taken on:

1974/08/29

Source:

The Concert Years (by Stein Erik Skar) and Elvis Word for Word (by Jerry Osborne)

Photo:

The Concert Years (by Stein Erik Skar)

Location:

Las Vegas Hilton Hotel

Suit

This photo shows Elvis in

Info:

Elvis opened his 11th season with a nervous show which didn't go according to plan. For some incomprehensiblr reason Elvis had dropped 'Also Sprach Zarathustra'. The opening song was also "new", 'Big Boss Man'. 'Proud Mary' was back in his repertoire, and he used it as second number followed by 'Down In The Alley' - a song the audience didn't particularly appreciate.

No later than the following day Elvis' show was back in its familiar guise: 'Also Sprach Zarathustra' again sent shivers down the spines of the audience before Elvis opened with 'See See Rider'. Elvis' opening nerves were gone. Elvis' shows this season are regarded by many fans as the most exciting and entertaining shows he ever held, although they cannot be directly compared with the 1969 and 1970 seasons. During most of the performances of 'If You Talk In Your Sleep' this season Elvis gave a karate demonstration. He demonstrated various movements and often used Charlie Hodge as an attack object.

Elvis about karate: I'm gonna do something a little different for you, if you don't mind. I'm gonna...there are a lot of people who know that I have been involved in the art of karate for some time, but nobody knows to what degree, or whatever. So what I would like to do, am about to do, and I hope you take it in the right way, is do a, what's called a "kata", which is a series of movements representing blocks, kicks, punches, things that you see on Kung Fu and karate.
Login to give your opinion
This photo taken by Sue McCasland.