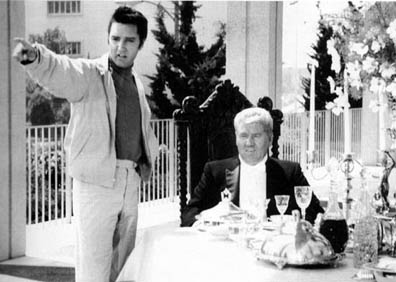 Taken on:

1968/05

Source:

Elvis...Intimate & Rare (by Joe Esposito and Darwin Lamm)

Photo:

Elvis ... Intimate And Rare

Location:

Set of "Live a Little, Love a Little"

Info:

This photo was taken in 1968 while making "Live A Little, Love A Little" for MGM. The director asked Elvis if it was okay to use his father Vernon for a scene in the movie. Of course Elvis loved it. He knew his dad would get a kick out of being in the movie. Elvis portrayed a photographer in the movie and Vernon was one of his models.

Greg Nolan (Elvis) is a photographer who's got a great job shooting for an LA newspaper. All he wants is to do his work and be left alone to sing and sit on the beach. Bernice (Michele Carey) and her Great Dane Albert have something else in mind.

Live A Little, Love A Little opens nationwide on October 23, 1968. Songs in this movie: Wonderful World, Edge Of Reality, A Little Less Conversation, Almost In Love.
Login to give your opinion