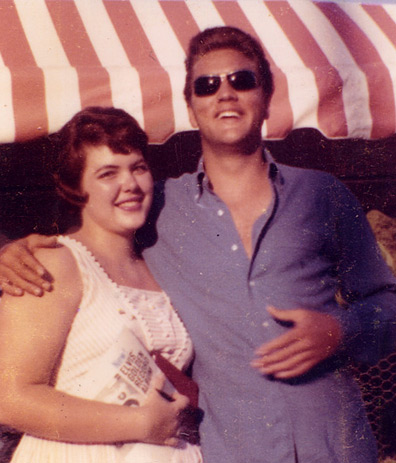 Taken on:

1961/08

Source:

GottaHaveIt.com

Location:

Tallahassee, Florida

Attendance

2

Info:

Elvis Presley has signed a 1957 "Photo Folio" for thjs female fan he met on location in Florida while shooting "Follow That Dream," which was filmed in Tallahassee, Florida and released in 1962.

Follow That Dream was filmed in sunny Florida, marking one of the few times a Presley feature was shot entirely on location. The head of the Florida Development Commission was pleased to have the film shot in his state, declaring, 'This movie will sell Florida around the world'.

Shooting on actual Florida beaches added a touch of authenticity to the movie, but location filming did give the producers minor headaches. The temperature soared passed 100 degrees one week, making it difficult on the cast, crew, and equipment. Elvis had to change his shirt 22 times in one day because he was perspiring so heavily. Another problem involved difficulties obtaining gambling equipment for a couple of scenes, because all gambling was illegal in Florida in 1961. One day, a local politician and a couple of anonymous gamblers just showed up on the set with the necessary equipment. No questions were asked.
Login to give your opinion