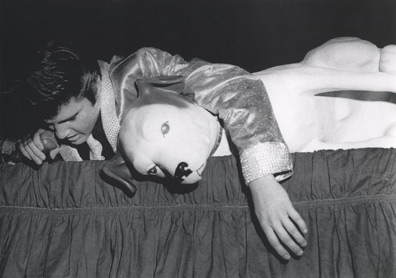 Taken on:

1957/10/28

Source:

Elvis '57 By Alan Hanson

Photo:

The King On The Road

Location:

Pan Pacific Auditorium, Los Angeles

Attendance

18,000

Suit

Gold Lame

Info:

Elvis worn out after doing Nipper on stage.

From the exceptional "Elvis '57 The Final Fifties Tours":

"Throughout Elvis' performance that night, a three foot tall plaster replica of Nipper, RCA's trademark black and white terrier mutt, sat patiently to one side of the stage. Presley had decided he was going to work the dog into his "Hound Dog" number. When the moment came, Elvis grabbed Nipper around the neck with his left arm and lifted him from the floor while continuing to sing into the microphone with his right hand. What he did next is a matter of dispute. As often happened at Presley concerts in the fifties, eyewitnesses saw the same stage events differently as they were filtered through predetermined prejudices, both for and against Presley. No one disputes that Elvis went prone on the platform and rolled in the front of the stage, dragging the dog with him."
Login to give your opinion