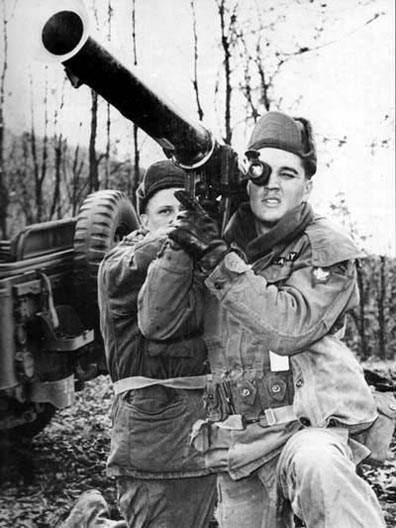 Taken on:

1959

Source:

Remember Elvis

Photo:

Remember Elvis (by Mike E. Rodger)

Suit

Army

Info:

Four days before his 22nd birthday, Elvis went to the Kennedy Veterans Hospital in Memphis for a pre-induction physical that would determine his draft status. On December 20, 1957 Elvis got a letter: Mr. Presley has to fulfill his duty on January 20th, 1958. But Elvis was busy with his 4th movie, 'King Creole', so he was allowed to come on March 24, 1958. That day Elvis became soldier US 53310761 and had a salary of $78 a month, while his salary was estimated $100.000,-

Negative criticism vanished as snow in front of the sun. Elvis going in the army impressed many people. Many records about Elvis glutted the market.

On March 2, 1960 Elvis' duty was over. Elvis said goodbye to Germany and Priscilla Beaulieu (daughter of an American Air Force captain), and returned to the United States on March 3. The King was back.
Login to give your opinion