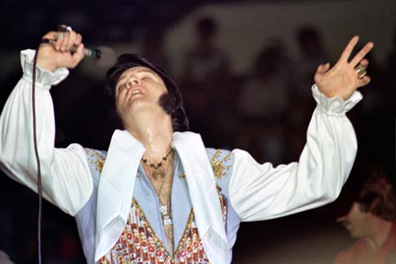 Taken on:

1976/06/04

Source:

Images In Concert

Photo:

George Hill

Location:

Mabee Center, on the campus of Oral Roberts University

Attendance

12000

Info:

Memories from photographer George Hill:

Thirty years. Time does indeed fly! Baton Rouge, Fort Worth, Tulsa and then on to Memphis. I remember it like it was yesterday.

I went to this show with Joyce Biddie and Tracy Gawer. They got me my ticket or at least the one that got me in the door! I worked a deal with a lady on the third row for the actual show! Sure was better than the nosebleed ticket I had!

We followed Elvis to the auditorium from the hotel where he was staying. That was fun! We were in Joyce's Ford Thunderbird and she drove that thing like a bat out of hell! We were right on Elvis' bumper and could clearly see him sitting in the back seat between Red and Sonny! Security cut us off before we could drive in behind the auditorium with Elvis. Close... but no cigar!

This show was done at the auditorium on the Oral Roberts University campus. If ol' Oral was in attendance, I didn't see him. The show was good and Elvis seemed in good spirits. I was "hoping" he would come out with some special, spectacular jumpsuit he had especially made for the Bicentennial Show! But that did not happen. But, as always, it was definitely worth the trip! Elvis did joke about having the suit especially made for the show but admitted he was telling a lie! I don't remember anything out of the ordinary about this show. He did a stirring version of "America" on this special day.

We left before the show actually ended so we could follow Elvis back to his hotel. Again, Joyce got right on Elvis' bumper and drove like a maniac! But we stayed right on his rear-end! When we pulled in the hotel parking lot, I jumped out of the car and was within ten feet of Elvis but Red kinda held his hand up and it was obvious Elvis was intent on getting in the hotel as quickly as possible. There were a lot of people waiting there to watch Elvis go in. They were pretty "polite" and Elvis, Red and Sonny walked (almost running) through the thin walkway through the crowd. It was always exciting seeing Elvis outside (as opposed to being inside an auditorium or coliseum)!

Another great Elvis show on the "Bicentennial Tour", next... Memphis, TN.!
Login to give your opinion
I think Elvis in 76 wasn't that bad at all. He was not the real hot thing of the youth but for the people aged like he himself. Take a look at the country charts. Elvis was a real big one there. No album bader than top ten most number ones. He did it for the matured audience. And Elvis himself wanted to be recognized as matured singer. He didn't fail. He greatly suceded until 1977. That's what he did. He was a master and that's why we listen to his music with every new release wether we already own it or not.