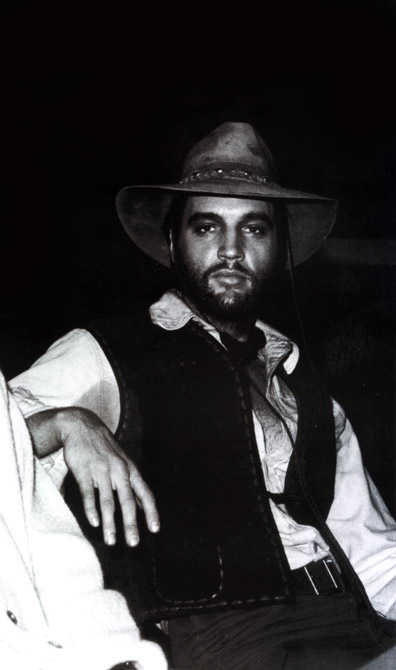 Taken on:

1968/07/22

Photo:

Millenium, Elvis larger than life, the candids, by Paul Lichter

Location:

Apache Junction, Arizona

Info:

Principal photography for Charro begins on location in Apache Junction, Arizona, at the Apacheland Movie Ranch. Elvis and the guys, Joe, Charley, Gee Gee and Alan) occupy rooms on the second floor of the Superstition Inn outside of Phoenix, with a dining room of their own. Elvis arrives bearded for a movie that he hopes will offer a raw depiction of the early West but soon discovers that the production is in as much a state of confusion as its wandering title.
After a period of movies full with girls, cars, boots and happy songs this film should have been different, not only because of the bearded Elvis. There were plans to shoot a naked Elvis, just coming out of a bath tub, and a lot of violent scenes. However, not long after the shooting starts, Elvis notices that some of the scenes are deleted from the film. He goes to the producer and director, Charles Marquis Warren, and learns that the 'public' doesn't want violence and nude scenes anymore. But, too bad for us, Elvis accepts this explanation and simply reacts: Well Mr. Warren, when that is what they want, lets do it and take our money and go on.
Login to give your opinion