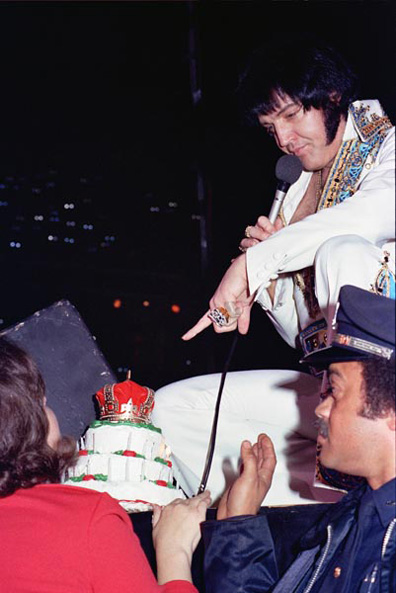 Taken on:

1976/12/30

Source:

Images In Concert

Photo:

George Hill

Location:

Atlanta, GA

Info:

This is from Atlanta, GA December 30, 1976. Photographer George Hill remembers:

"December 30, 1976, oh yes! One of the greatest Elvis memories pressed between the pages of my mind! When The Stallion strolled on stage that night it was obvious to me that it was going to be extraordinary! When he grabbed the mic to start C.C. Rider you could tell Elvis was ready to rock n' roll! Every song that night was sung with conviction and soul. when The Man wanted to be, he was just incredible! One of the highlights for me was his great rendition (accompanying himself on guitar) of "Reconsider Baby"! And of course "Blue Christmas".

One enterprising Elvis fan (female of course!) sat a 3-tiered real birthday cake with a red velvet crown on top on the stage! Elvis came over, knelt down and looked somewhat puzzled! He looked all around like "what in the hell is going on here"! The audience started singing Happy Birthday! The lady was 9 days early, but ya gotta make your move while Elvis is in the building!

This show was one for the ages. Elvis showing and proving once again that he was, is and always will be the greatest entertainer of all time."
Login to give your opinion