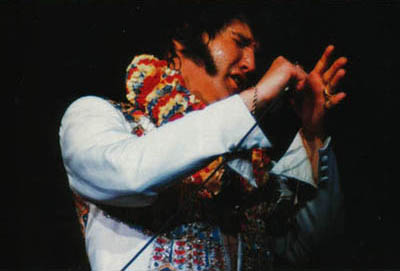 Taken on:

1976/12/11

Source:

Elvis The Concert Years (by Stein Erik Skar)

Photo:

John Herman

Location:

Hilton Hotel, Las Vegas

Suit

Inca Gold Leaf Suit

Info:

The first show on the 11th showed Elvis in a slightly reckless mood - maybe because Priscilla and her parents were in the room: "There's someone in the room whom I dearly love. You all know - perhaps- who Priscilla is? Her mother and father are here. He is retired from the air force. This is the first time they've seen me in two years. I will dedicate the next song (My Way) to him because.....he's crazy.

Later that night the audience experienced one of the most delightful Elvis shows ever. Vocally Elvis was at his very best, and in a sparkling good mood he played on his whole register as comedian and singing sensation - with comments and asides about various things which made the audience roar with laughter every time Elvis opened his mouth to speak. There are no words to describe the atmosphere in the room.....Elvis' mood. Priscilla's parents are introduced and dedicated "My Way". "Hurt" then follows the usual introduction of the band and the backing singers, which includes "Love Letters", before Kathy Westmoreland probably does her best performance in an Elvis concert of "My Heavenly Father". Shaun Nielsen is also at his very best and hugely impresses with "Danny Boy" and "Walk With Me" - like he impressed earlier in the show during "O Sole Mio". Elvis then takes over again with a highly improvised "Reconsider Baby". Elvis gets completely lost in the lyrics, but gets it together again before he finishes the show with "Can't Help Falling In Love". He had done it again. Done the really big show..
Login to give your opinion