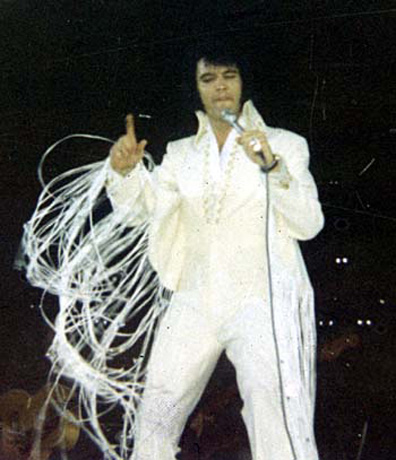 Taken on:

1970/11/14

Source:

John Graf

Photo:

John Graf

Location:

Los Angeles Forum

Info:

I remember having to sleep in the parking lot overnight to get the tickets. My brother Bobby was with me and we had a great time talking to other Elvis fans all night long. While we were waiting to get in the doors a big bus pulled up. It said The Elvis Presley show on the side so everyone thought Elvis might be inside. Everyone was heading for the bus... all excited, and a man dressed like Elvis jumped out. It was a decoy so the real Elvis could drive in while people were hanging around the bus. It worked well too. Elvis got in the building and nobody knew how or when.

Anyway it was time for the doors to open. You could cut the excitement in the air with a knife. As I walked inside the Forum I remember thinking "How can any one person fill up an arena this big?" Then I remembered "Hey... this is Elvis!... and I am actually going to see him perform for the first time in my life! All you could see was miles of people... and Elvis posters ,souvenirs, banners and bad Elvis impersonators with sideburns down to their feet.

Everyone was seated and we had to watch comedian Jackie Kahane do his little act for 20 minutes or so. I don't think anyone heard a word he said because they were waiting for you know who.

All of the sudden the lights dimmed and the stage was pitch black. Then you heard the guitar riffs of "That's all Right Mama" coming from the giant sound system on the stage. The drums came in like thunder... then a single spotlight hit this guy strutting out on stage in a wild white jumpsuit with fringe hanging all over it. Gee... who could it be? It was the King in all his glory looking magnificent. He seemed to be so much bigger than life. The flashbulbs were going off like an insane lightning storm and the screams were like a giant tidal wave washing over the whole arena. It was exciting and at the same time downright scary. Elvis hung his guitar around his neck, grabbed the mic and whipped into " That's All Right Mama" with his leg rocking a a hundred miles an hour. His hair was longer than I had ever seen it. Longer than any other time in his career I believe.

If you have the album "You'll Never Walk Alone" that picture on the cover was from this show. Elvis moved through the songs with great ease and sounded so good. He did many of the songs from "That's The Way it is". Elvis was wearing an outfit with so much hanging fringe he became tangled in it. He played it off in great Elvis style by making a joke of it. Charlie Hodge had scissors and was helping him untangle himself by cutting the fringe. It was such a great show and I know nobody wanted it to end. Elvis was in great shape and good humor... and I feel really lucky to have seen Elvis in his happier days. I am still amazed to this day how exciting that show was. "Elvis has left the building" is still ringing in my head… and it makes me smile inside.
Login to give your opinion